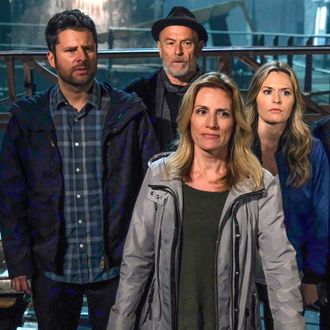 Literally, a first look!
Photo: Alan Zenuk / USA Network
You heard about Psych's holiday reunion movie on USA? That's (not) messed up. Shawn, Gus, Juliet, and nearly the whole Santa Barbara gang are excitedly getting back together for a two-hour Psych: The Movie later this year, and although some details about the outing have already been unveiled — a "mystery assailant" played by Zachary Levi will be targeting the group as a criminal named Thin White Duke — EW has conjured up even more info about what to expect. Sadly, and perhaps most important, Timothy Omundson won't be appearing in a large capacity as Carlton Lassiter after suffering from a recent stroke. (You can see he's not in the above group photo.) "[His stroke] kind of forced us to rethink a lot," explained the show's star James Roday. "First and foremost, whether or not we should be making this movie — if it even made sense and if the timing was right or not. Then beyond that creatively, how do we make that work?" Psych's creator, Steve Franks, added: "There is most definitely a way that he appears in the movie. We haven't gotten to that point [in the editing process, yet]. I can't say for 100 percent sure that he will, but I can say like 99.99 percent that we did everything we can to get Tim in the movie."
The film's setting, meanwhile, will be in San Francisco as opposed to Santa Barbara, while Henry has undergone a radical transformation as a hipster due to gentrification in his new dockside neighborhood. "He's become the hip old guy in the neighborhood," said Franks. "The first time we see Henry, he's in full hipster regalia." Look at his hat and scarf! You know that's right.