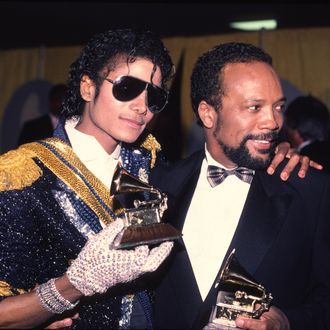 Michael Jackson and Quincy Jones.
Photo: Chris Walter/WireImage
On Wednesday, a jury awarded music-industry titan Quincy Jones $9.4 million in his dispute with Michael Jackson's estate, Billboard reports. Jones, who produced some of Jackson's biggest records (Off the Wall, Bad, and Thriller), sought $30 million in unpaid royalties he argued he was wrongfully denied after Jackson's death in 2009.
While the Jackson estate did not deny that Jones was owed some money, they claimed it was a sum of less than $400,000 due to an accounting error. The crux of the trial, which went on for three weeks, came down to various interpretations of the contracts between the two icons. Jones believed that he was entitled to significant proceeds from the documentary concert film This Is It and two Cirque du Soleil shows.
During the trial, Jones took the stand to explain how he felt "cheated." "Contract, montract," said the 84-year-old music mogul. "If we made the record, we deserve to get paid."
According to Variety, the jury concluded that the Cirque du Soleil shows and This Is It could not be defined as records. The latter did, however, count as a "video show," which, according to Jones's contract, entitled the music mogul to a portion of the net profits. In addition to the $9.4 million he was awarded today, it was revealed during the trial that Jones has received about $18 million in royalties since the King of Pop's death.