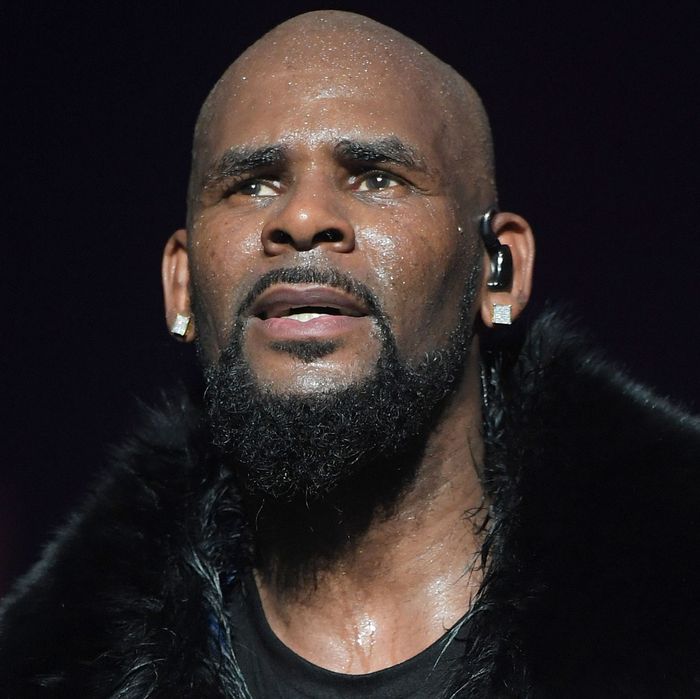 R. Kelly.
Photo: Prince Williams/WireImage
On Monday, journalist Jim DeRogatis, whose dogged decade-plus reporting on R. Kelly famously exposed the singer's sexual behavior with minors, published damning new accusations against the self-proclaimed "Pied Piper of R&B." DeRogatis reports for BuzzFeed that Kelly is running what the families of two alleged victims are calling a "sex cult" that preys on aspiring female singers. According to three former associates of Kelly's — two of whom say they were also victims of the "cult" — at least six women are living at Kelly's properties in Chicago and Atlanta, where they're allegedly subjected to various forms of emotional and physical abuse. According to the parents of two of these women, their daughters are being held "prisoner" and restricted from communicating with their families. One family, which says they haven't seen their daughter since December, describes her as "brainwashed." Both families have contacted local police to investigate the alleged disappearances of their daughters, though one alleged victim has refused to cooperate with police.
Since the news broke, one of the alleged victims, 21-year-old Joycelyn Savage, has spoken to TMZ claiming she is "totally fine," though she would not disclose her whereabouts, who she's living with, or if she's free to leave. Savage later alleged that her father, Timothy, arranged her relationship with Kelly. Further adding to the murkiness of the situation: All the women allegedly living with Kelly are of legal consenting age. (However, a new report from Jezebel suggests one of the women has been with Kelly since she was "14 or 15.") Kelly was previously acquitted of child-pornography charges in 2008, and has settled several other lawsuits alleging abuse out of court. Kelly has also denied the accusations made in the BuzzFeed report.
Is it possible that Kelly has found another legal gray area, or could these latest accusations bring forth serious criminal charges? Vulture talked to Page Pate, an Atlanta criminal-defense attorney and University of Georgia adjunct law professor, about the potential legal repercussions Kelly might now face.
What does the law say about cults?
The family of one of the alleged victims and one of Kelly's former associates have each described the new allegations against Kelly as that of a "cult." But in the eyes of the law, that's just semantics. "There's no legal definition for that in Georgia, and it's not a crime to be in a cult," Pate says. "It's more a cultural or religious term, but it's not a legal term. But the parents are using the term 'cult' to suggest that these folks are being kept against their will, and that's important under Georgia law. But a cult has no legal meaning." In other words, it's what happens inside a cult and if there's consenting participation among its members — two crucial factors for the families — that pertain to the law.
Is this abduction?
Under Georgia law, abduction is considered a kidnapping statute. And in order to have a case, the state must be able to prove that a person "required, forced, intimidated, or threatened someone in such a way that they moved them from point A to point B." For example: If an intruder breaks into someone's home and forces them to move from the kitchen to the bedroom, Pate says that's kidnapping according to Georgia law. "If R. Kelly is actually controlling the movement of these women and saying, 'I want you to stay in the house, I want you go to this place or not to go this place,' that can technically be kidnapping," Pate says. "As long as it's done either with force or by threats." There is no age limit on kidnapping.
Kelly's associates have referred to his authority over the women allegedly living with him as "mind control," and noted that the women "must ask [Kelly's] permission to leave the Chicago recording studio or their assigned rooms in the 'guest house' Kelly rents near his own rented mansion in suburban Atlanta." As "punishment" for breaking one of Kelly's "rules," one woman was allegedly "left on [Kelly's tour] bus for, like, three days and she was not allowed to come out." A spokesperson for Kelly tells Jezebel that "anyone who is involved with Mr. Kelly is free to come and go and communicate and eat and sleep when and where and how they please." However, another woman described as a member of Kelly's "entourage" who also has sex with Kelly says the women must ask "permission" to move about Kelly's properties. Page says Georgia's kidnapping laws carry a mandatory-minimum prison sentence of 25 years. But Kelly could also face the lesser crime of false imprisonment, which is still a felony. "That's simply, 'I want you to stay in the house and you can't come out until I tell you,'" Page says. It doesn't require proof of threats and is usually the easier charge to pursue.
Does it matter if the sex is consensual?
Because all of the alleged victims are of legal consenting age, some have played devil's advocate and suggested that the "cult" in question might be in accordance with BDSM subculture, which, while unconventional to the mainstream, is not technically illegal if each act is consensual. Pate agrees that the law can't interfere if that's the case. However, Kelly might run into familiar hot water if there's one particular piece of evidence: video or photos of a sexual act with any of these women if she was under 18 at the time they were taken. In Georgia, the consenting age for sexual activity is 16, but photographing or recording that activity with a minor under 18 is considered child pornography under both federal and Georgia state law. "While you can legally have sex with a 17-year-old consenting person in Georgia, you cannot videotape that sex without committing a felony," Pate says.
According to Kelly's associates, Kelly records all sexual activity with these women and shows them to "men in his circle." Savage was already 19 when she met Kelly, but another alleged victim was 17 when she met him and allegedly moved into one of his properties when she was "over the age of legal consent." (If in Illinois, the age of consent is 17.) But according to a woman in Kelly's entourage who spoke to Jezebel, though all the women are now of consenting age and the sex is "not nonconsensual," one woman has allegedly been with Kelly since she was "14 or 15." "[Kelly] was telling me that he 'raised her.' Those were his words," she says. She also confirms that Kelly has "at least three iPads filled with footage of both his daily life and his sexual encounters."
If the parents of the alleged victims or authorities obtain tapes of any girl in Kelly's possession recorded before she was 18, he could be in trouble. But it's important to remember that Kelly was acquitted of 14 counts of child pornography nearly a decade ago. Page notes that any sexual activity recorded without a person's consent, even if they're over 18, is also a crime.
Can the parents fight on behalf of their daughters?
Currently, the two families investigating their daughters' whereabouts and relationship with R. Kelly have had little to no cooperation from the alleged victims. Savage told police, which conducted a welfare check at Kelly's properties, that she was "fine and did not want to be bothered." Attempts to file a missing person's report with campus police were also unsuccessful because Savage's parents have been in some communication with their daughter and she is of legal age to be where she wants to be. That could present a major roadblock in building a legal case against Kelly: "Unless the [victims] are not competent, it doesn't matter what the parents say. They're not the legal guardian of somebody who's reached that age of majority in this state. They may have a legitimate complaint about it, but, legally, it just doesn't matter," Pate says.
What evidence is needed for a criminal case?
Savage's father has said he'll present evidence that his daughter is being held against her will in the coming days. According to Pate, here's what her father will need: text messages, emails, voice-mail or voice recordings that "suggest that R. Kelly was using intimidation, threats, or force." That can also include proof of bribing or extorting these women, such as R. Kelly saying, "I have these pictures or tapes and I'll release them if you leave." Anything that can convince law enforcement that these women are being held against their will despite what they claim, Pate says, would be useful. But the tapes of conversations between Kelly and Savage — which were recorded by Savage and a producer and obtained and published by BuzzFeed — likely won't be enough because they "don't show he's violated the law."
Can one of the victims press charges?
Though only one of the current alleged victims has spoken out to deny the claims, former associate Asante McGee has corroborated the families' allegations with eyewitness accounts of abuse and says she was also a victim of the "cult." (Though she has not explicitly called herself a victim, only that she did not like what she saw.) Another former associate, Kitti Jones, also told BuzzFeed that Kelly physically assaulted her. Neither of these women's ages at the time of these various incidents has been disclosed, but they are described as having worked with Kelly "at different times over the past five years before leaving." Pate says the statute of limitations hasn't expired yet if that is the case, and if either of them were minors at the time, the penalty for sex crimes would be more severe. However, as BuzzFeed noted, both McGee and Jones have limited evidence because Kelly allegedly restricted their access to phones.
What is the likelihood of Kelly's arrest?
According to Pate, a criminal case against Kelly boils down to evidence as much as it would anyone accused of such crimes. If there's evidence of child pornography, kidnapping, false imprisonment, or physical abuse, Kelly could be charged. But there will also need to be cooperation from at least one victim. "Law enforcement is not going to spend a whole lot of time pursuing someone if the alleged victims in the case don't want him pursued," Pate says. "If daddy wants her home, law enforcement is not just gonna go out and get her." Savage's father has involved the FBI but kept mum on the specifics of that investigation. But in Pate's legal opinion, barring criminal evidence, this will more likely play out in civil court. But even for the families of the alleged victims to file a lawsuit against Kelly — lawsuits which Kelly has a history of ensuring never make it to court — they'll still have to prove "some of element of force" or possibly that Kelly made false promises or misrepresented intentions to help their daughters' careers. One daughter's claims that her dad helped "orchestrate" her arrangement with Kelly could actually help gather evidence despite how bad it may look, Pate says. As for Savage's father's claims that his daughter is suffering from Stockholm syndrome — a condition where captives develop emotional attachment to their captor — Pate says the only way to prove it would be for a psychologist to evaluate her or another alleged victim. But until one comes forward and allows such action, taking Kelly court is going to be an uphill battle: "You've got the problem of not really having a victim."