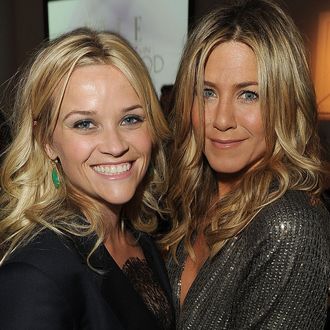 Witherspoon, Aniston.
Photo: Jason Merritt/Getty Images
The Force is strong with TV. Having just hit a home run with Big Little Lies, Reese Witherspoon is already stepping back up to the plate for another big cut at Zeitgeist-capturing television. And guess what? Jennifer Aniston is coming, too! According to The Hollywood Reporter, the two actresses are developing a show that focuses on morning-news programs and the greater New York media landscape. And whether it's meant to be a comedy or drama, the enclosed habitat of New York journalism should provide enough gossip, infighting, intrigue, conflict, sex, witty repartee, tipsy karaoke, and general drama to fuel a well-executed show for at least ten seasons. The series doesn't have a name or a home yet, but expect A-listers like these to get the attention of big players like Netflix and HBO. Witherspoon is coming off a big prime-time win thanks to BLL, and this would be Aniston's grand return to TV after a 13-year absence. There's also a strong pedigree behind the scenes, with House of Cards writer Jay Carson writing the script, and HBO's former head of dramatic programming, Michael Ellenberg, funneling it through his new production company. Reese, get Laura and Nicole on the phone! You've got some important work to do.