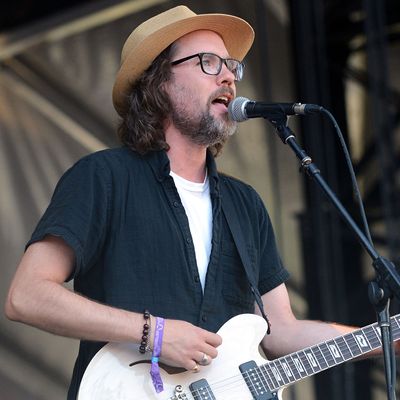 Photo: Scott Dudelson/WireImage
I recently picked up the legendary rock manager Noel Monk's new Van Halen tell-all Runnin' With the Devil: A Backstage Pass to the Wild Times, Loud Rock, and the Down and Dirty Truth Behind the Making of Van Halen — mouthful of a title, yes — and was struck by Monk's account of the harsh scheduling of '70s rock stardom. "Put out a new album, like clockwork, every year," Monk says, reflecting on the rush to build on the gains of the Cali quartet's pristine 1978 self-titled debut. "Get out on the road for months at a time, touring tirelessly in support of the album." Early on, Van Halen slipped into a cycle of relentless touring and curt recording that ultimately cost it some critical and commercial cachet. Banging out new albums in three weeks' time every year preserved Van Halen's bottom line but also crammed its catalogue with inessential material. Patience is a virtue rarely afforded a hard-working rock band.
By contrast, the Canadian indie-rock collective Broken Social Scene feels like an act of career as curation. Until this week, it had only released four proper studio albums as a full band in nearly two decades (not counting the two-man ambient jams of its 2001 debut, a handful of B-sides collections, and a pair of "Broken Social Scene Presents …" albums spotlighting the individual songwriting talents of de facto band leaders Kevin Drew and Brendan Canning). And the wait between new projects grows a little each time, as members settle into their individual lives and work on splinter and solo acts like Stars, Metric, Do Make Say Think, and Feist. As a Broken Social Scene fan, you are likely to spend more time praying for a reunion than you ever do enjoying the fruits of one.
When this band does reconvene, its aim is nothing less than overkill. From 2002's big band heft of the stone-cold indie-rock classic You Forgot It in People through the genre-hopping expanse of the 2005 self-titled album and 2010's kookier, riskier Forgiveness Rock Record, Broken Social Scene always returns with a record dense and textured enough to take dozens of listens to crack. The songs are driving and anthemic, but closer inspection reveals a marching band's worth of intricate instrumental flourishes in every song. The new album, Hug of Thunder, follows suit. It's the most compact album in the canon thus far, but with a list of personnel that runs 18 players deep, Thunder is direct but never simplistic.
Consider the early album highlight "Protest Song." Interlocking guitar licks fill each other's empty spaces on opposite sides of the mix while mood-altering drones swirl underneath. The verses are wonders of small parts moving with mathematical precision, but the chorus is punchy and focused. "Stay Happy" adds a bustle of flutes and horns to a reggae romp, relegating guitars to the sidelines as a low, distorted horn carries the main tune, like everyone was intentionally given each other's charts to play. Feist's warm, muted title track melts vocals into guitars at the chorus so adeptly it's easy to forget which sound is human. Broken Social Scene's recording and production decisions are always delightfully offbeat, but the quirks never get in the way of the riffs. At its peak, this band is a raybeam of unfettered feels.
The principal emotions informing Thunder are resignation and uncertainty. The malaise never gets a name — turn on the news and pick your poison —but exhaustion clouds "Please Take Me with You" ("Please take me with you, I'm so tired / All the fools are winning, and nobody's wild") and the closer "Mouth Guards of the Apocalypse" ("I'm tired of smiling while you constantly die"). The specific power of Broken Social Scene, a band that resurrects from its own apparent demise once a decade, is its sweetness in the face of unfavorable odds. Dark moments like Broken Social Scene's "It's All Gonna Break" are cast as preludes to a prosperity that's just one tough fight away. Hug of Thunder's reality is grim, but we aren't sent away without a resolution.
To hear the band tell it, Hug of Thunder is actually a bath in the comforting physicality of togetherness. "Looking at the general state of the world right now," Kevin Drew told Pitchfork last month, "we knew that putting our unified friendship out there was a great protest that we could do." "Gonna Get Better" strikes a note of encouragement echoing the self-effacing "It can't get no worse!" John Lennon slipped into the Beatles' bright "Getting Better." ("Things are gonna get better cause they can't get worse,") and "Stay Happy" finds strength in the confidence of a partner: "There may be dogs at the door, but you are a lottery winner." What's true of the song is true of the band: Small wonder that the album that takes the time to corral almost everyone who played a part in Broken Social Scene proves to be the most focused outing since You Forgot It in People. What's true of the band is true of the world: Simply being there for friends and loved ones on a personal level is a revitalizing act in trying times.