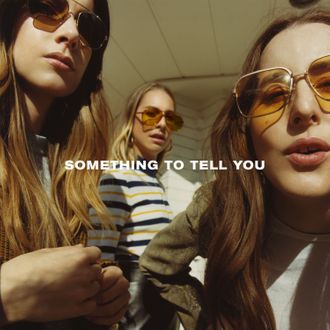 The Haim sisters have impeccable taste and a DJ's keen sense of what kinds of music should not but in fact secretly do work well together. The mix of '70s folk-pop sensibilities, '80s and '90s girl-group vocals, and 21st-century indie-rock guitar theatrics powering the trio's 2013 debut album Days Are Gone was smartly offbeat in concept and dutifully sleek in form. Rare is the record that conquers fashion store PA systems, open-air festivals, and indie-rock blogs at the same time.
Four years later, indie rock and pop are much more conversant in each other's styles and players. Dawn Richard works on Dirty Projectors records. Dave Longstreth from Dirty Projectors works on Solange records. It's not enough to just present a savvy mix of jibing aesthetics. The best marks go to artists who bend styles to their will in service to a deeper overarching statement. Pop is getting serious to match serious times. Paramore made an '80s dance-rock record about depression. Katy Perry rolled out her patchy statement record with three days of televised therapy and acupuncture sessions. Haim feels slight in this climate.
The new Haim album, Something to Tell You, is a breezy cycle about love and betrayal. The track list is split between songs that push for reconciliation and songs that trace where things began to unravel. "Little of Your Love" begs an aloof lover to open up, but "Ready for You" apologizes for giving up and playing the field when he won't comply. "Nothing's Wrong" blasts a significant other for faking interest in a dying relationship, while "Something to Tell You" feigns ignorance to mounting problems to try and save the union.
The lyrics are direct and conversational, perhaps to a fault, since they carry the same corner-cutting reliance on the popular aphorisms and worn-out turns of phrase that pad our vernacular when we're too pressed to mince words. Something to Tell You courses with sap like "Gimme just a little of your love," "I'll give you all the love I never gave before," and "I promise I will treat you right, babe," lines you'd wince at hearing anywhere outside a campy 30-year-old breakup anthem. The writing seems like a concerted effort to pitch hearty sing-along material for large crowds, but it's too simplistic to feel artful and frequently too rote to feel profound.
Haim's sharp playing saves Something to Tell You from the canned sentimentality of its writing but not so much from the sense that what they're selling is a clever game of spot the influence. "Nothing's Wrong" opens adorning a warm vocal with a beautifully rootsy guitar lick, some handclaps, and a synth, but by the time the chorus hits, it's hard not to hear a whiff of Fleetwood Mac's late-'80s hit "Little Lies." The same goes for Haim's "You Never Knew" and the other Tango in the Night–era single "Everywhere." "Right Now" stacks stately melodies on the way to a dramatic coda that pipes in the exact drum line from Phil Collins's "I Don't Care Anymore." "Ready for You" revels in tinny, funky guitar licks that ape aspects of both INXS's "I Need You Tonight" and George Michael's "Faith."
The obviousness of its influences doesn't completely smother Something to Tell You's potency. The title track and "Ready for You" are moving snapshots of love in decline in spite of the specific precursors each one invokes. The flashy guitar licks and melting vocal on the bridge of the latter carry some of the kooky impulses of co-writer Twin Shadow, an indie pop auteur audacious enough to tour Prince's Purple Rain last year and skilled enough to skirt total failure. Elsewhere the group calls on production flourishes from Vampire Weekend alum Rostam Batmanglij, a string arrangement from the young composer Nico Muhly, violins by singer-songwriter-composer Owen Pallett, and a lyrical assist from Blood Orange mastermind Dev Hynes.
The list of bit players is cooler than the actual album, though. It points to the zany directions Haim could go if it weren't so committed to faithful reconstructions of '80s album-oriented rock. Dev and Rostam are both adept at using the music of the past as launch pads into unique, art-damaged pop. Check the latent "Street Hassle" vibes underneath Rostam's "Gwan" or the breakbeats and milky synths of Blood Orange's "Clipped On." In leaning too closely into its influences, Haim exposes its shortcomings. The sisters' emotion and musicianship never falter, but the music they apply it to never feels new. It struggles to match the heights of the records it cribs from. Something to Tell You is good fun, but all the Fleetwood fan service feels inessential arriving so closely behind the de facto Mac reunion of last month's Lindsey Buckingham/Christine McVie album. When will Haim make the album that sounds like Haim?