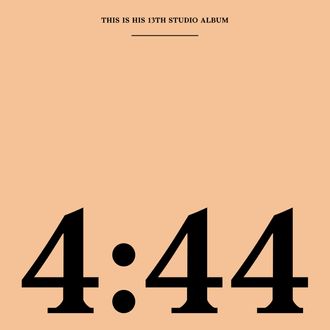 Rappers love gangster flicks. They see their own reflections in a mob boss's rise from poverty to power. They relate to betrayals and attempts on their lives. They admire the strength and defiance of every cocaine-flecked, bullet-riddled demise. They do not seem to grasp the driving sense nearly every gangster classic gives off that the chief is just as responsible for his own unraveling as he is for his path to riches. Tony Montana triggers his downfall when he becomes too sure of himself and counts the wrong people out. Michael Corleone nearly loses everything choosing business over blood kinship. You shouldn't want to be like those guys. It always ends poorly.
Halfway through "Family Feud," the middle track off Jay-Z's lean, gutsy comeback album 4:44, the Brooklyn legend admits to being too enthralled by the cold calculations of his favorite mob movies to catch the cautionary bent: "A man who don't take care of his family can't be rich / I watched The Godfather, I missed that whole shit / My consciousness was Michael's common sense / I missed the karma that came as a consequence." 4:44 is a bold proposition. Jay attempts to address all his scandals and controversies while offering wisdom about responsible adulthood and business management for fans and rappers on the come-up. It is the only album he could possibly win with in the wake of the public cut-your-shit moment of Beyoncé's Lemonade and the advancing sense among rap audiences that he has gotten too lost in his own riches to relate to the streets.
The new album opens with a necessary act of ego death. "Kill Jay Z" is an argument between the rapper and himself, a Fight Club scrap acknowledging trials he plays at being too bulletproof to own up to on record now: "We know the pain is real, but you can't heal what you've never revealed / What's up, Jay-Z? You know you owe the truth to all the youth that fell in love with Jay-Z." It also symbolically rejects the hyphenless stylization of his rap name introduced around 2013's Magna Carta … Holy Grail. JAY Z wanted you to know he was too rich and too cool for everybody in the room. Jay-Z made music to help get them all through the week. It was his triumph over pain and adversity that gripped people early on, not a sense that he was aloof or untouchable.
4:44 scours some of the celebrity sheen off of Jay, both in character and in sound. The producer-in-residence is Chicago veteran No I.D., an early associate of Common and Kanye West who has worked more recently with Vince Staples, James Fauntleroy, and Jhene Aiko. No I.D. is an assassin with samples, both obvious and obscure. For the Jay and Frank Ocean summit "Caught Their Eyes," he rearranges Nina Simone's reggae version of Randy Newman's "Baltimore" into jerky funk. "Smile" renders the smooth "ooh"s of Stevie Wonder's "Love's in Need of Love Today" shockingly jittery. "Bam" dampens the bass of Sister Nancy's reggae classic "Bam Bam," leaving behind just booming drums, shattered vocals, and a section of horns.
4:44's beats are an about-face from the slick and trendy vibes of the last two Jay-Z solo records, a collection of sounds you might expect a Freddie Gibbs or an Action Bronson to jump at first. The mix is jagged. The flips are wigged-out. Clever sample chops have always galvanized Jay-Z's craft (see pretty much any of his work with Just Blaze and Kanye), but there's something frantic and deliberately disorienting about No ID's technique that baits the technician out of Jay. The shimmering pianos and drums of "Marcy Me" net some of the year's best bars: "Hold a Uzi vertical, let the thing smoke / Y'all flirting with death, I be winking through the scope / Shout out to all the murderers turned murals … plural / Fuck the Federal Bureau." The sweetness of "Smile" gets the rapper to open up about his mother coming out as lesbian and finally finding true love.
The marquee love story of 4:44 is, of course, between Jay-Z and Beyoncé. This isn't exactly the Lemonade reply early chatter might suggest, but a few of the songs here level, to varying degrees, with the impassioned ire of Bey's opus. The title track is a heartfelt middle-of-the-night apology for past indiscretions: "You did what with who? What good is a ménage à trois when you have a soulmate? You risked that for Blue?" "Legacy" is a message to Blue Ivy about passing on generational wealth that black families were denied through discrimination. 4:44's tender moments depict a once-wild guy being molded by the responsibilities of marriage and fatherhood. "Big Pimpin'" and "Girls, Girls, Girls" Jay is dead.
That doesn't mean 4:44 is daddy-day-care rap. "Kill Jay Z"'s transparency pledge leaves room for the Roc Nation chief to speak on decades of unsolved questions. In the same song he sorta maybe cops to the non-fatal 1999 stabbing he once wrote a whole single about not being guilty of. Kanye West catches hell throughout the album for speaking unkind words about his friend during last fall's ill-fated Saint Pablo tour. ("You ain't a saint, this ain't 'Kumbaya' / But you got hurt because you did cool by 'Ye.") Jay sends a flurry of shots at rappers who accept advances from labels to flash cash in strip clubs and Instagram photos. "Moonlight" jabs at the ones who count sex with each other's love interests as points of pride, a surprising turn when you consider Jay's own "Super Ugly," a vicious 2001 diss track outlining his dalliances with the mother of Nas's child.
If painfully honest Jay-Z sounds petty on paper, know that the thrashing seems to come from a genuine desire for black unity and self-sufficiency. He wants to make more millionaires. He wants to funnel money back into local businesses. "God sent me to break the chain," he says on "Smile." Jay-Z really believes smart capitalism is the way to break out of the projects, and there's a nobility to the sentiment. But drinking Diddy's vodka and buying Jay's streaming service aren't what's gonna get us free. Rallying behind one man isn't the trick to prosperity. Someone always just kills the man. True mob-movie aficionados know.
4:44 is full of respectable financial advice that'll likely only work for people pulling in six- and seven-figure salaries. Of course, that's how shit goes down when there's a billion dollars in your elevator. Money-management woes aside, 4:44 is smart, lean, mean, real, and grown. It is the best new Jay-Z album anyone could hope for in 2017. We shouldn't need proof that rappers nearing 50 can still push the dial in mainstream hip-hop, but if you were losing faith, the God MC is back.