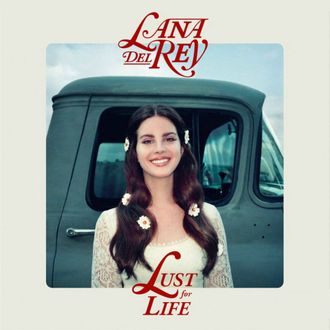 Photo: Interscope Records
For five years, Lana Del Rey has made a mint mixing old Hollywood iconography and spurned love stories. Her music was dour and gauzy, glacial and bass-heavy, with a kiss of hip-hop flair. 2012's Born to Die came from nowhere with a fully formed Natural Born Killers aesthetic that was perhaps too much too soon. It didn't sound like anything on the radio. It felt time-displaced and familiar all at once, like discovering a heat-warped cassette tape of a singer-songwriter album from that part of the '90s where trip-hop invaded pop. The response was divided, especially when early recordings under the singer's birth name, Elizabeth Grant, came to light. Dialogue about the music quickly shifted to marketing and authenticity. It seemed as if we'd been sold a bill of goods.
In retrospect, it was a dumb conversation. We didn't care when Christian singer Katy Hudson became the powder-puff-bustiered pop nova Katy Perry. We jumped at downtown performance-artist Stefani Germanotta's laser-guided dance music as Lady Gaga and even (briefly) believed Disney-certified country singer Miley Cyrus cared about hip-hop. Pop music is about creating an exciting present, not staying tethered to your past. Lana deserved the same allowance. To her credit, she tightened up her craft and then burrowed further into character to spite her critics, razzing them with songs like "Fucked My Way to the Top" and firing off bazookas in the "High by the Beach" video.
This week's new album, Lust for Life, blows up the idea of what a Lana Del Rey song can be about, while preserving the general understanding of what one ought to sound like. On the surface, it's another 72-minute serving of sun-bleached, slow-motion California pop music not terribly removed in scope from everything that came before it. The drums are informed by trap. The bass shimmers deeply underfoot. Lush instrumentation drapes over the low end, and Lana's voice billows straight down the middle as always. But where the last three albums found the singer stressed and struggling to cope with shitty boyfriends and feelings of dread, Lust for Life is a search for happiness in the face of forces hell-bent on hindering it.
One of these hindrances is politics. Upon introducing "Coachella — Woodstock in My Mind" this April, the singer noted that it was written on the way back from the SoCal festival after she caught wind of a diplomatic crisis between the U.S. and North Korea. The lyric recounts a moment where she peered out into the crowd and fretted about the good fortune of the kids there. Lust for Life locates a folksy social consciousness that makes sense for Lana. There's no outright protest music here — although, the "Is it the end of America?" sentiment of "When the World Was at War We Kept Dancing" comes close — but there are songs expressing concern about the opioid crisis and fear that growing up in a country that doesn't prioritize women's health and rights will cause real bodily harm to young women she counts as fans.
Lust shouldn't go down as Lana's Trump rejoinder, although some are banging that drum. There's joy, levity, pain, power, and frailty mixed in with the political jitters. "In My Feelings" drags another dirtbag boyfriend for filth, jumping an octave whenever Lana calls him a "loserrr!" and, in the chorus, asks, "Who's doper than this bitch? Who's freer than me?" "Cherry" compares having the courage to trust a lover to a convict staring down an executioner. Here, she nervously punctuates lines with profanity like she's second guessing herself: "Love … it's like smiling when the firing squad's against ya, and you just stay lined up … Fuck!" The message that contentment is hard to hold on to but well worth fighting for is a sunnier outlook than Lana is known for, but the subtle taste for the macabre slots these songs neatly in her catalog.
Another new concept Lust floats is famous outside guests. Ultraviolence had a quiet appearance from the late Lou Reed, but Lust bills its guests as full-blown features and gives out ample face time. The list of collaborators seems scattershot at a glance but ultimately suits Lana's meld of throwback California pop and modern day hip-hop aesthetics. No one else in the biz save Frank Ocean would think to invite A$AP Rocky and Playboi Carti to the same table as Beatles scion Sean Ono Lennon and Fleetwood Mac's Stevie Nicks. Lana holds court with hip-hop and R&B luminaries but gets just as excited for a Moody Blues concert, and it's great to see that versatility cycle back into the music.
The guests also bust up some of the syrupy thickness of an album that tenaciously claims the title of Lana's longest ever, no small feat after the 65-minute expanse of 2015's Honeymoon. It's a dubious title. Lust never exactly lags, but the mood and pace don't change. It's hard to listen to in a single sitting. Lana is prolific — four albums and two EPs in five years' time is a big haul by any era's standards — but it feels like a function of the singer and her producers having located a comfort zone. (That's not a problem, exactly. Who wouldn't kill to have a fast-acting gold and platinum album-making apparatus in place?) It also means you kinda know what you're getting before she ever puts it out. In fairness, Lana Del Rey is really proficient at icy pop tunes about numbing inertia and creeping anxiety. Lust for Life is a solid entry in a reliable canon and a good push past the confines of the archetypal Lana Del Rey record. Is it wrong to want her to keep trekking even further out?