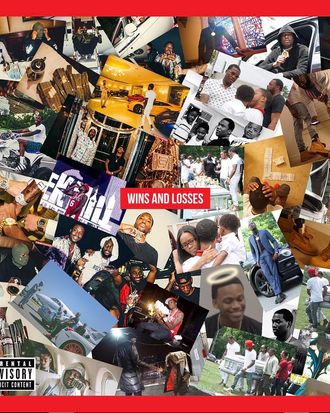 Photo: Maybach Music/Atlantic
Released last Friday, Wins & Losses is Meek Mill's first studio album since his war of words with Drake kicked off two summers ago, but it's far from the only music he's put out. Between the pair of 4/4 EPs early in 2016, the album-quality mixtape DC4 in the fall, and a recent set of SoundCloud tracks titled Meekend Music, it's evident that the Philly rapper has been hard at work dispelling the reputation for hapless defeat plastered on him by the first rounds of the Drake beef, when a botched counter-diss track and a meme tsunami left him looking foolish. As its title suggests, Wins & Losses represents a phase of self-assessment, an attempt to clarify the meaning of victory and defeat.
Yet aside from a handful of bars on a single track, Meek's vision is focused on matters more weighty than spats fought with memes. The album's cover is a collage of photographs where signifiers of success predominate — expensive vehicles, chains, clothes, and watches, crew to share them with, stacks of money, some sarcastically arranged in the shape of the letter "L." But the handful of casualties clustered in the lower right corner — a haloed photograph of Lil Snupe, Meek's Louisiana protégé, deceased before his time, and pictures of his crew carrying a casket — show that the artist's awareness of true loss remains keen. Wins & Losses doesn't break new ground, but it doesn't have to. Meek has always been a loyalist in every sense of the word, and his belief that he's already in a stable position, aesthetically, personally, and financially, proves to be justified by his expression of it.
In terms of content, Wins & Losses reiterates the themes set forth in Meek's previous album, 2015's Dreams Worth More Than Money. Triumphant strains continue: He celebrates, in the brick-solid-style typical of East Coast rap since the '90s, his finances, family, and friends (minus a few ungrateful and/or jealous turncoats). The celebration never feels hollow or frivolous; if anything, it's exceedingly somber and sober. Even the party tracks on W&L feel a little bummed out. Memories of the poverty and police cruelty he's escaped are never far from his mind: He's aware that his rise is an exception to a general rule of suppression, and he remains determined to speak for the parts of "young black America" who otherwise can't.
As in Dreams Worth More Than Money, there's a trio of lighter, romantically oriented tracks aimed at the charts: the DJ Mustard/Chris Brown/Ty Dolla $ign lead single "Whatever You Need" made a few waves on release, and "Fall Thru" and "Open" seem destined to follow suit. Meek's always been better at being earnest than being seductive, but earnestness has its own charms. Though the Metro Boomin/Southside production that made for several highlights on Dreams Worth More… is nowhere to be found, Meek's long-standing ties to Atlanta remain firm, as indicated by features from Future, Young Thug, and Quavo. The weakness for overdone choruses partially responsible for weighing down Meek's debut album, Dreams & Nightmares, seems to have recurred at certain points on Wins & Losses, but not so much that the collection is spoiled. Quality-wise, the tracks span a narrow range between pretty good and very good: A notable point on the higher end is "Fuck That Check Up," a dense, swarming, mobile production where the contrast between Meek's blunt delivery and fellow Philly artist Lil Uzi Vert's agile flows feels novel and unforced.
Perceptions of Meek have often drifted far from reality. A complex artist whose loud voice has made it easy to peg him as simplistic and whose fidelity to tradition has made it hard both to highlight his innovations and to group him with his peers, Meek seems destined to be, to some significant degree, misunderstood. The extra dust from the Drake spat hardly cleared things up. Contrary to initial reports, Meek didn't lose — the beef drove Drake to rebuild his Views album from scratch, delaying its release by a full year, and Views was so inferior no sentient person could overrate it — but Meek's post-beef releases, though super solid, feel like dispatches from a fortress — all that firm defensive posturing has kept him from developing at the pace he otherwise would have. It would be unfortunate if an artist so gifted were to continue contenting himself with very good and very familiar work instead of reaching for more. Here's hoping that his future work displays a more adventurous spirit, but even if it doesn't, he's still a presence to be reckoned with: "I gave my mama ten thousand at least a thousand times / Do the math," he quips on Wins & Losses right after talking about starving like Ramadan and carrying AK-47s like Palestinians. (Meek's crew, like the Philly ghettos he hails from, has a high proportion of black Muslims.) The world he comes from hasn't changed, so why should he?