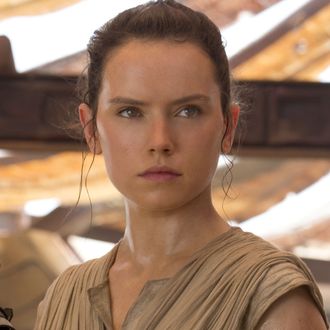 Daisy Ridley as Rey, the star of the new
Star Wars
trilogy not big enough to make it into Monopoly.
Photo: Disney
Despite being the heroine of Star Wars: The Force Awakens and the upcoming sequels, it was discovered last year that Rey had been left out of the Star Wars: Monopoly game, causing a stir on the internet. After a mother's posting of her young daughter's letter expressing confusion and outrage over the fact that a Rey token had been left out of her game went viral, game maker Hasbro quickly promised to rectify the situation. But a year and a half later, the Star Wars: Monopoly set still lacks the newest trilogy's star.
When the Associated Press questioned Hasbro about missing Rey tokens, customer service spokeswoman Julie Duffy had this to say:
"In early 2016, Hasbro updated the 2015 Star Wars: Monopoly game to add a Rey token. This product was sold to retailers in several markets around the world, but is not available for sale in the U.S. due to insufficient interest."
Duffy did not clarify what markets the updated sets were sold to, and in April a British man that had purchased the game for his son complained that his set lacked a Rey token. Hasbro did clarify that a Rey token could be obtained by contacting the company's customer service department, but that seems like hoping a Band-Aid will heal a gash, as misogyny has been an issue with Star Wars merchandising in the past.