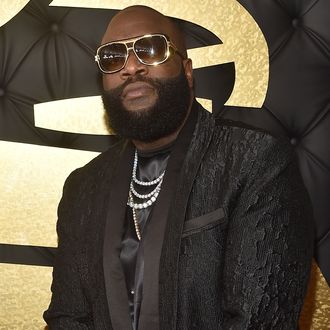 Ross.
Photo: Alberto E. Rodriguez/Getty Images for NARAS
While promoting his upcoming VH1 music competition Signed, Rick Ross was asked on "The Breakfast Club" about the lack of women artists on his label Maybach Music Group. The rapper and record executive had his reasons for signing men only, though. "You know, I never did it because I always thought, like, I would end up fucking a female rapper and fucking the business up," he said.
His charming explanation for withholding opportunities to 50 percent of the population, including those who are talented and could potentially bring money to his business, did not get better as he kept talking. "I'm so focused on my business. I just gotta be honest with you. You know, she looking good. I'm spending so much money on her photo shoots. I gotta fuck a couple times." So, to recap, not only is the legally troubled MC confident that any woman he signed would consent to having sex with her boss, but he also feels that somehow the money he is spending on photo shoots, a general business practice for record labels, is connected to this "gotta" happening.
As Pitchfork points out, Ross was previously criticized in 2013 for a verse on Rocko's "U.O.E.N.O" that seemed to condone date rape. He rapped, "Put molly all in her Champagne, she ain't even know it/ I took her home and I enjoyed that, she ain't even know it." The lyrics cost him his deal with Reebok.
Watch the interview below. The question about female rappers comes near the eight-minute mark.