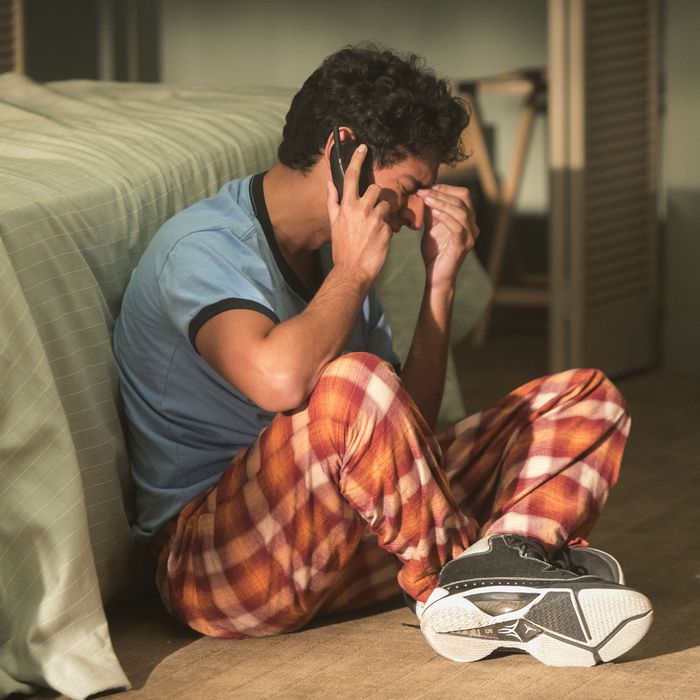 Karan Soni in episode five of
Room 104
, "The Internet."
Photo: HBO
Every episode of HBO's Room 104 takes place exactly where its title suggests: in room 104 of a generic chain hotel on the lower end of the budget spectrum. It could be a Days Inn, or maybe a Motel 6 — it's never made clear, nor is it clear exactly where the hotel is located, other than, probably, not too far from a U.S. interstate exit ramp. All we know is that the place is clean, reasonably roomy (especially by New York City lodging standards) and, given its unimaginative décor and beige-meets-diluted-seafoam color scheme, a blank slate upon which anything can be projected.
And projecting anything onto that slate is exactly what Room 104 — from Mark and Jay Duplass, who also created Togetherness and produce the animated series Animals for the premium cable network — does in every episode. In the tradition of anthology series such as The Twilight Zone, Alfred Hitchcock Presents, and more recently, Black Mirror and High Maintenance, each tightly constructed installment serves as a single, contained story that introduces us to characters, then finishes with them by the time the half-hour is over. But in a slight deviation from anthology conventions, Room 104, which debuts Friday at 11:30 p.m., changes its tone and genre in every installment, while maintaining one constant: that setting, with its pair of queen beds and the implied sense of surreal limbo that tends to accompany time spent in temporary accommodations.
At the risk of sounding like Forrest Gump, you never know what you're going to get when you start a Room 104 episode, and that's part of the appeal. The first one — a concise little shocker called "Ralphie," in which a babysitter (Melonie Diaz of Fruitvale Station) must take care of a boy with some unsettling stories to tell — gives the impression that Room 104 will, like so many anthology series, fall into the horror category. Subsequent episodes prove otherwise. HBO provided six of the 12 in advance, as well as out of sequence, since serialization is a moot point here. Only one other — episode three, "The Knockadoo," about a haunted woman (Sameerah Luqmaan-Harris) seeking spiritual transcendence with an assist from a cult representative played by Orlando Jones — qualifies as somewhat scary. The others run the gamut from marital drama (episode 12, "My Love," starring Philip Baker Hall and Ellen Geer) to showdowns between mixed-martial-arts enemies (episode 11, "The Fight") to episodes that turn a visit from the hotel housekeeper into a profound, mesmerizing modern dance routine (episode 6, "Voyeurs").
My favorite so far, though, is the fifth, "The Internet," in which an aspiring writer (Karan Soni) realizes he's left the laptop that contains his much-needed manuscript at his mother's apartment and must walk his technology-challenged mom (Poorna Jagannathan), via phone, through the process of emailing it to him. The episode is a wonderful showcase for both Jagannathan, who played Naz's mother in The Night Of and turns in a wonderfully dimensional, vocal-only performance, and, especially, for Soni, who has played bit parts in a million things (AT&T commercials, the Ghostbusters reboot), but finally gets to be the lead and demonstrates a believable, ultimately moving range of emotions.
Written by Mark Duplass, who penned seven of the Room 104 episodes, and directed by Doug Emmett, a cinematographer who worked on Togetherness and films such as The Edge of Seventeen, "The Internet" is set in 1997, and as such, is presented in the pre-widescreen-TV era, 4:3 aspect ratio. Whether through fun framing devices, the inventive angles from which scenes are shot — it takes a while in the MMA episode to even realize you're in the same hotel room — or via carefully chosen and purposeful use of close-ups, the directors of Room 104, more than half of whom, for the record, are women, consistently find ways to change things up and infuse visual interest in that largely unchanging place to lay one's head.
But what I admire most about Room 104, though, is its commitment to the concise. The running time of every episode is less than 30 minutes; some, like the premiere, even clock in at around 20 minutes. Considering how bloated so much television feels these days, Room 104 is like a juice cleanse by comparison. It's refreshing to watch a story hit all its marks without steering into any unnecessary tangents, and a relief to feel no pressure to catch every episode, since the plot resets every week. Really, this is a hotel show on every level, right down to the way it encourages its viewers to check in and check out as they choose. Given the demands that keeping up with peak TV presents, even to those who don't write about it for a living, you might even say that watching Room 104 feels a little like taking a vacation.