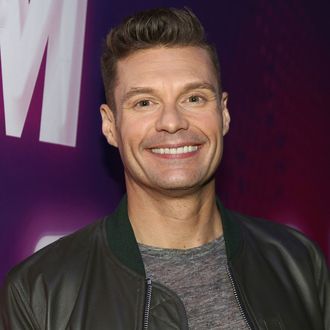 Seacrest.
Photo: Rich Fury/Getty Images
It's official: Local busy guy Ryan Seacrest will return to American Idol, the show that made him a household name. After negotiations, lowballing, renegotiations, and soul-searching, Seacrest has decided to fit the ABC reboot into his schedule, confirming the news on Live With Kelly and Ryan. According to a June Hollywood Reporter profile, Seacrest's return comes with a $10 million paycheck and an executive-producer title. "Who am I if not the American Idol guy?" he asked the magazine (and, likely, himself).
Seacrest's return, which once seemed inevitable, took a lot of hand-wringing. He met with ABC and producer Fremantle North America, and even "huddled" with Katy Perry to convince her to come on as the reboot's anchor judge for $25 million. But during salary negotiations, his offer was pitifully low — "roughly half the size of its first" because "the new arrangement would require less of its famously busy host," THR reports. For a minute, he even withdrew his name completely from any involvement in the show. But now he's back, baby! And this side hustle has Live! co-host Kelly Ripa's blessing.
This post has been updated throughout.