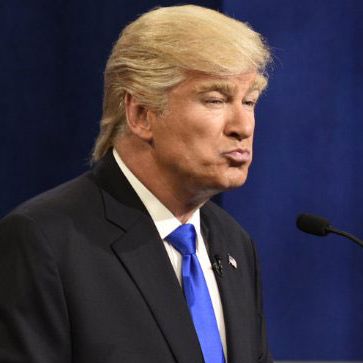 It's thanks to this guy and one he was impersonating.
Photo: NBC
One of the biggest stories in TV this year was just how many dang people were watching this show that airs live on Saturday nights called Saturday Night Live. Included in those millions were plenty of Emmy voters, apparently, because, as we learned this morning, the show's 42nd season got nominated for 22 Emmy awards, which ties it for the most with Westworld, a show with 41 fewer seasons under its holster. Twenty-two is what award prognosticators call "a big number."
I should note that this is not entirely unprecedented. SNL, with its continued dominance of the technical categories, usually gets a bunch of nominations. In fact, it has more Primetime Emmy nominations than any other show by far, with over 200. Last year, they got 16 nominations, for an example of another pretty big number. Twenty-two is still more, however, so why?
To quote a no-longer-that-well-known-but-still-classic SNL catchphrase — acting! The show got five guest actor nominations — Dave Chappelle, Lin-Manuel Miranda, Tom Hanks, Melissa McCarthy, and Kristen Wiig — but that is actually exactly the same number they got last year. The difference is that the show got a surprising three additional supporting actor nominees, with Leslie Jones, Vanessa Bayer, and Alec Baldwin all joining last year's Supporting Actress winner Kate McKinnon. Leslie Jones is a surprise and Vanessa Bayer (who was always a fan favorite but never really positioned as a breakout) is a bigger one. And, well, Alec Baldwin, a non–cast member, getting a Supporting Actor nomination is both a surprise and not one, considering how high profile his Trump impression was. Still, it does feel generally weird.
To round this thing up, the other three nominations they got this year and not last year, include Outstanding Short Form Nonfiction or Reality Series, for their behind-the-scenes series they did all year; Outstanding Prosthetic Makeup for a Series, Limited Series, Movie or Special, which is actually a pretty big deal for the show, since they more often just get nominated for the Non-Prosthetic category (another win for Baldwin's Trump impression); and lastly, Outstanding Music and Lyrics for the Christmas song Chance the Rapper wrote when he was the musical guest. That last nomination is also a first for Kenan Thompson, who has a writing credit for "Last Christmas." I'll say this flatly: That shouldn't be. Thompson should've gotten an Outstanding Supporting Actor in a Comedy Series nomination by now. He arguably should've got nominated every year for the last, I don't know, five years. Six years? Anyway, congrats, Alec Baldwin.