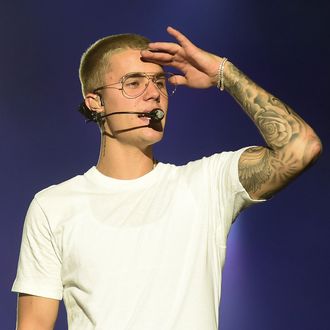 Insert "Sorry" joke here.
Photo: Anadolu Agency/Getty Images
So far, Justin Bieber hasn't gotten the relaxation he craved after canceling the rest of his Purpose World Tour to ride bikes and maybe reconvene with God. While leaving a City Church event at the Saban Theater in Beverly Hills, Bieber pulled his souped-up pickup truck out of his parking spot, clipping a photographer in the process.
"He got to his truck, he slid over to the driver's side, and he started to pull out slowly — it was slowly, and paparazzi started jumping in front of the truck," security guard Jeff Osborne, who was escorting Bieber out of the church, told Vulture. Because there were paparazzi on both sides of the car, one of the paps was clipped by Bieber's wheel. "I think the tire just hit the side of his leg. I don't think he ran over him," Osborne said. "I don't think it was too severe because as we were looking at it he was still looking at him, he was still moving his toes … But he was not taking pictures."
While Bieber is flanked by paparazzi everywhere he goes, in video from TMZ, photographers can be heard asking Bieber if he's planning on starting his own church — one of the rumors that circulated after the singer canceled the rest of his tour. After the accident, Bieber reportedly stayed with the paparazzi until he was loaded into an ambulance; police say he suffered non-life-threatening injuries to his lower body.
Reporting by Soo Youn.