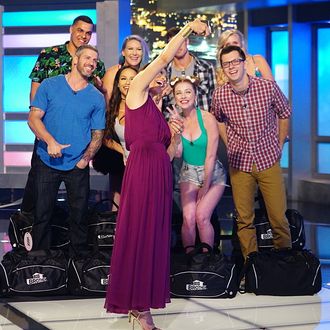 Season premiere of
Big Brother 19
.
Photo: Sonja Flemming/CBS
Spoilers for Sunday's episode of Big Brother below.
Less than 48 hours into the new season of Big Brother, a player has abruptly left the game. Megan Lowder, a dog walker from Phoenix, AZ, who served in the U.S. Navy, was noticeably absent from the show's 24/7 live feed when it launched on Thursday evening, after the season's second episode finished airing on CBS. Before long, it'd become clear that Lowder was out of the competition, with the remaining cast members cryptically discussing her exit. Fans on social media were quick to speculate whether she quit because she was already the target to be voted out, had been embroiled in a scandal involving a racial slur, or had simply had enough. She was reportedly sequestered in the show's "diary room" for more than three hours before officially leaving.
CBS has not confirmed Lowder's departure and likely will not until Sunday night, when a new Big Brother episode — based on the last few days' events — airs. In any case, Lowder has decided to get in front of however the show decides to package her exit, giving an interview to her hometown paper, the Desert Sun, providing her side of the story.
"When I was stationed in Norfolk, Virginia, I was sexually assaulted and I got really bad PTSD from it," Lowder explains. "In the [Big Brother] house … I had a lot of guys yelling at me and attacking me, and it started really affecting me and making my anxiety severe, and I was starting to get physically ill. I was throwing up, I had diarrhea, I was nauseous all the time."
Lowder was indeed at the center of conflict repeatedly during her short stint on Big Brother. On Thursday's episode, rival contestant Josh publicly confronted her, seemingly out-of-nowhere, to call her a "snake" and her gameplay "disgusting." (He eventually apologized.) Later, she was nominated for eviction by Cody, a fellow military veteran, and he further planned on co-ordinating her elimination. When providing his reason for targeting Megan, Cody very bluntly said to her face, "I just don't like you that much."