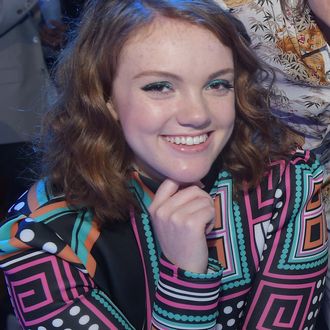 Photo: Matt Winkelmeyer/MTV1617/Getty Images For MTV
Patton Oswalt moderated a massive Comic-Con panel for Stranger Things in Hall H this afternoon, as more than a dozen people showed up to talk, barely, about the show's upcoming second season. David Harbour, Millie Bobbie Brown, Gaten Matarazzo, Caleb McLaughlin, Finn Wolfhard, Noah Schnapp, Natalia Dyer, Joe Keery, Mathew Modine, the Duffer brothers, and more needed two rows of chairs to all fit, and each of them either said or implied "I don't want to give any spoilers … " every time they started talking about season two. That meant nothing was really revealed — even if Harbour did promise an exploration of the "intricate psychology" of heroism — but the Duffers did offer one very concrete detail about what's coming when Shannon Purser surfaced from the crowd to ask the showrunners a question. When it came time for audience questions, the spotlight trained on the Q&A mic and there stood America's favorite normcore bestie. "Hi, my name is Shannon," said Purser, with the backing track of a raging crowd. "And I wanted to know if Barb was coming back for season two." The Duffers responded with a quick and certain "No," but they did assure fans justice will be served on her behalf.
Oh, and they also debuted the first trailer for Stranger Things season two. It's got a spontaneously surfacing Upside Down; a giant, War of the Worlds–style monster; little boys in Ghostbusters suits; yard signs advocating for Ronald Reagan and George H.W. Bush in the 1984 presidential election; and a thumping synth soundtrack set behind the Vincent Price voice-over from "Thriller." We don't want to give any spoilers, but it looks very good.