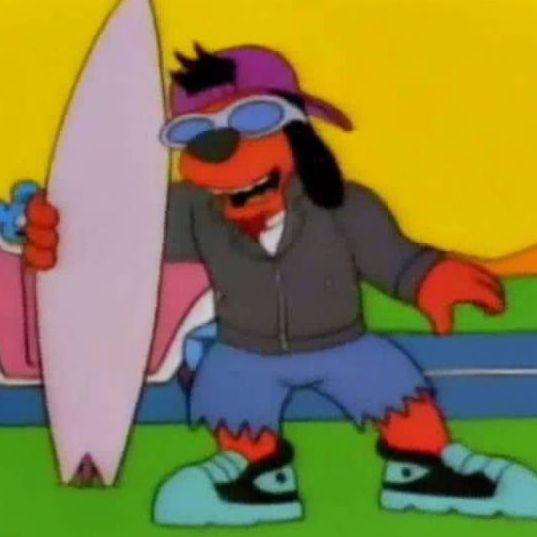 "I'm Moe."
Photo: Matt Groening/FOX
When you think "totally in your face," is Homer the first Simpsons character you think of? If anything, Homer is only sometimes in one's face, as often food is in Homer's face. The most in-your-face character is Moe. Not only that, Moe is sort of like "half–Joe Camel and a third Fonzarelli," in that he could pass as Jewish or Italian, and he looks like an animal that stores water in its body.
What I'm getting at is Moe was almost cast as Poochie on the "The Itchy & Scratchy Show." Kind of. This weekend, Josh Weinstein, one of the Simpsons' co-showrunners during the "The Itchy & Scratchy & Poochie Show" episode (and the Planet of the Apes musical season, for what it's worth) shared a deleted scene from the script on Twitter that revealed that other characters auditioned for the role of everyone's favorite rappin' surfer and that a certain bartender was the first choice:
Not only didn't these characters get the role of Poochie, their auditions were cut from the script! From the outline of the Poochie episode: pic.twitter.com/KjqJJiHkAO
— Josh Weinstein (@Joshstrangehill) July 15, 2017
Weinstein went on to point out that this was possibly cut because the reason Moe was almost cast was too similar to how Homer ended up getting accidentally cast.
Yeah, Homer's audition is the very next page - that's probably why we cut Moe. pic.twitter.com/5GSpZvQQuq
— Josh Weinstein (@Joshstrangehill) July 15, 2017
Considering how Poochie's run on the show went, it appears Moe dodged a bullet, not unlike the times he decided at the last minute not to kill himself.