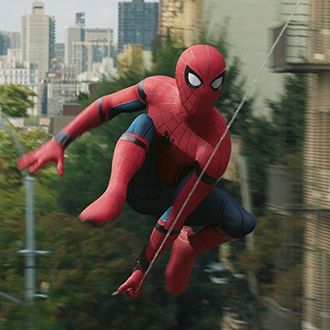 Spider-Man: Homecoming
is winning.
Photo: Marvel Studios/SONY Pictures
For the third time in less than two decades, Marvel and Sony have attempted to launch a new Spider-Man franchise — and for the third time in less than two decades, they appear to be off to a very good start. The well-received Spider-Man: Homecoming is pulling in big box-office numbers for its opening weekend, grossing an estimated $117 million domestically — the third-best opening of the year — and more than $250 million worldwide. That's beyond enough to dub the Tom Holland–starring reboot an unqualified success: Sony president of worldwide marketing and distribution Josh Greenstein calls it "a great result, and a gigantic win for Sony and for Marvel."
But when it comes to this particular comic-book adaptation, we've heard this story before. Sam Raimi's original Spider-Man opened well with critics and audiences in 2002, but while his third and final Spidey film was a major box-office hit, its creative weakness foreshadowed the abrupt dissolution of the director's partnership with Marvel and the end of his franchise. Marc Webb's Amazing Spider-Man also emerged commercially strong before, of course, falling apart after a by-all-counts disappointing sequel. Certainly, the word is still good on Homecoming, but that history should be enough to at least slightly dampen the enthusiasm of any Sony executive out celebrating. Then again, in a summer filled with miserably performing reboots, the studio might just be relieved that audiences are giving the web-slinging superhero another chance at all.