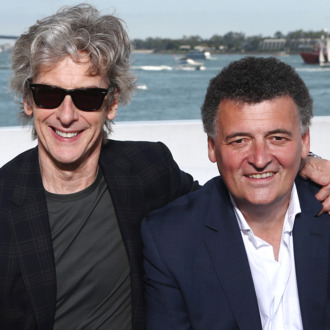 Today's Doctor Who panel at San Diego Comic-Con was an hourlong love-in. Fans got the chance to say good-bye to parting members of the show — chief among them the Doctor himself, Peter Capaldi, and head writer, Steven Moffat — while everyone onstage graciously thanked one another for creating what sounds like a wonderful on-set experience during the run of the 12th Doctor. Inevitably, conversation also turned toward the next Time Lord on deck, Jodie Whittaker, at which time Capaldi offered a certain and heartfelt endorsement of his successor. "I just wanted to say that I think Jodie is going to be amazing," said Capaldi. "She's so full of excitement and so full of passion about the show. She really, really loves the show, and she's a brilliant actress. So it's really great knowing it's in the hands of someone who cares for it so deeply, and is going to do really, really exciting things with it. She's a great choice."
Capaldi's remarks seemed implicitly to touch on the pushback that Whittaker's casting has generated in some misogynistic corners of the internet. The BBC even issued a statement standing behind her casting to let the trolls know the network doesn't care what they think. With the topic teed up in Hall H, Moffat wanted to take his own turn addressing the casting controversy. Curiously, his main axe to grind was that there is no controversy whatsoever to comment on.
"Can I just say something as well?" Moffat asked. "I just wanted to because I'm sure there are a lot of people who feel exactly as I do. There are so many press articles about a backlash among Doctor Who fans to a female doctor, and there has been no backlash at all! The story of the moment is that the notionally conservative Doctor Who fandom has utterly embraced that change. Eighty-percent approval on social media, not that I check those sort of things obsessively, and yet so many people are wanting to pretend there is a problem. There isn't. In fact, it strikes me that Doctor Who fans are more excited about the idea of a brilliant actress playing the part than the fact she's a woman. It's really incredibly progressive and enlightened. And that's what's really happening. I wish every single journalist who was writing the alternative would shut the hell up."
Okay, so it's a slightly confusing statement. In any case, everyone onstage and in the crowd at Hall H screamed very excitedly at the sound of Whittaker's name. So, all hail the new Doctor!