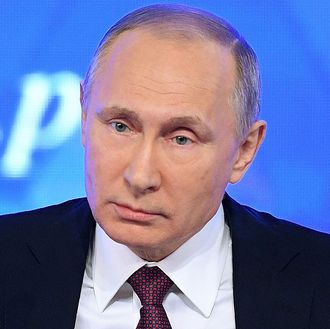 Putin.
Photo: NATALIA KOLESNIKOVA/AFP/Getty Images
In the latest example that Hollywood and the U.S. government are even more similar than assumed, major studios are reportedly concerned with Russian interference. According to The Hollywood Reporter, two upcoming films opted not to feature Russian President Vladimir Putin as a character despite his relevance to their stories over concerns that Russia could hack their respective studios in retaliation. Fox's Red Sparrow, which stars Jennifer Lawrence as a Russian spy turned double agent for the CIA, removed Putin from the film despite his key role in the book that the film was adapted from. As an even further precaution, the studio is said to be using encrypted scripts throughout production. EuropaCorp's Kursk, an upcoming film about a Russian submarine that sank in the Barents Sea in 2000, will also no longer feature Putin, though he also shows up in the book that film is based on.
Sources tell THR that omitting Putin from these films were "creative choices" also meant to deter Russian protesters from hacking the studios, as the U.S. government speculated was the case when North Korea was allegedly involved in the 2014 Sony hack in response to that country's portrayal of Kim Jong-un in The Interview. "For a studio to release a movie about Putin that makes him look like a fool would be suicide," a studio security firm tells THR. "That's a certain way to be targeted [for retaliation]." But while Putin might be excluded from films, Hollywood isn't walking away from Russia; THR reports that at least one writer conducted secret meetings in Moscow with former Soviet leader Mikhail Gorbachev about the potential for a film about his life. One Hollywood manager says to expect the movies to mirror the headlines for the foreseeable future: "Everything will be Russia for the next four years." Just don't include the man in charge.