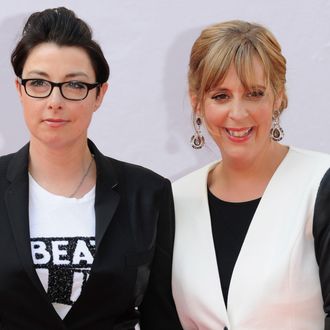 Photo: Stuart C. Wilson/Getty Images
We're still silently weeping into our choux pastries since it was announced The Great British Bake Off was being remodeled into a "modern" show by Channel 4, but if you need a few tears for your dampfnudels as well, here's something about original Bake Off co-host Sue Perkins that'll make you a wee bit misty. As it turns out, the lovely Perkins was seriously considering leaving the series before the network-switch controversy all went down. "It was a really sweet show, and I loved the crew, and I loved the director, and I loved the bakers, but I sort of loved all of it," Perkins recently explained on a BBC Radio 4 show. "There was one point where I did think, 'Can I do this forever?' which is when I had come back from my travels." The travels she's referring to were her international experiences in Tibet, where she filmed the BBC Two special The Mekong River With Sue Perkins.
"Four days before I came into the Bake Off tent, I had been with the first family of the Mekong in Tibet. They had no electricity and no running water, and they would have yak butter and barley, and that's all they ate, and they would meditate and be in bed by six," Perkins said. "And then four days later, I was in a tent where somebody was crying because they couldn't find the packet of marron glacé. And I did think, 'How can I rationalise these two worlds?'" As the special aired in 2014, Perkins, of course, ended up staying with Bake Off for at least two more seasons, much to the delight of viewers and her co-host Mel Giedroyc. And although she admits her departure with Giedroyc and judge Mary Berry was "a complicated brew," she misses it and wishes the new series well. Ready, set, tear up.