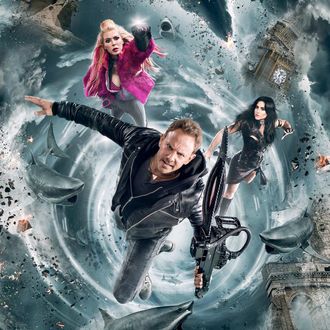 Photo: @SharknadoSyFy/Twitter
Unlike Discover's Shark Week, SyFy's Sharknado Week isn't overly interested in providing actual scientific information, like whether or not Michael Phelps can actually swim faster than a shark. Instead, the network has wisely doubled down on its original Sharknado franchise, and then doubled down again, doubling down faster and faster until the sheer force of it doubling-down creates a sharknado in and of itself. EW posted the full six-movie schedule of environmentally dubious films, which you can see below. SyFy is kicking off the festivities with the fairly self-explanatory film 5-Headed Shark Attack on Sunday, July 30, and ending with the exquisitely named Sharknado 5: Global Swarming on August 6. All six films premiere at 8 p.m. EST. Only two of them feature Tara Reid, but we're betting the network can get those numbers up by next year. Heck, if Sharknado Week proves to be a continuous success, Discover and SyFy can team up on Michael Phelps–nado Week, and the cycle will be complete. (Note: The cycle is also a cyclone made out of flying sharks.)
5-Headed Shark Attack 
Sunday, July 30
"Shaped like a demented starfish, a monster five-headed shark terrorizes the open ocean before invading the beaches of Puerto Rico, endangering the once peaceful island paradise."
Mississippi River Sharks 
Monday, July 31
"Sharks attack a fish rodeo on the Mississippi River, and it is up to a group of locals to stop them."
Trailer Park Shark 
Wednesday, August 2
"A tropical storm floods Soggy Meadows trailer park and forces a hungry shark upriver." Even more important, Trailer Park Shark features Sharknado star Tara Reid.
Toxic Shark
Thursday, August 3
"A tropical singles retreat takes a terrifying turn when guests realize a poisonous shark is infesting the surrounding water. Not only will this toxic shark rip apart its victims, but it also uses projectile acid to hunt … in and out of the water!"
Empire of the Sharks
Saturday, August 5
"Set in a future where most of Earth is covered by water and the only land left is controlled by a warlord who rules with an army of hyperintelligent sharks, unlucky humans are used as shark food. But when two friends risk their lives to rescue a trapped prisoner, those imprisoned decide to rise against their captor and his legion of bloodthirsty sharks."
Sharknado 5: Global Swarming 
Sunday, August 6
"As shark-infested storms grow stronger and more complex, the world braces for the inevitable — a global sharknado. This year, the mission gets personal for chainsaw-wielding leader Fin Shepard (Ian Ziering) and his bionic wife, April (Tara Reid), when their young son gets trapped in a sharknado and is transported all over the world. Cameos include Olivia Newton-John and daughter Chloe Lattanzi as brilliant scientists, Fabio as the Pope, Charo as the Queen of England, Porsha Williams as an archeologist, Bret Michaels, Clay Aiken, Chris Kattan, and more."
Fabio. As. The. Pope.