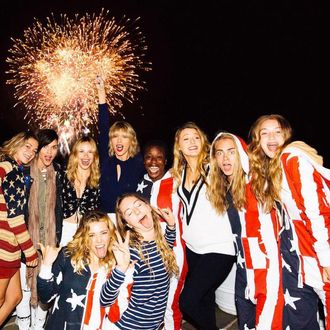 Memories from times gone by.
Photo: Taylor Swift/Instagram
Perhaps because she's worried about overexposure, or perhaps to avoid comparisons to those photos of Chris Christie on a closed beach, or perhaps because she's just human, man, Taylor Swift seems to have canceled her annual Fourth of July party this year. Last year's bash at Swift's Rhode Island residence involved an inflatable "Taymerica" slide and Tom Hiddleston's infamous "I <3 T.S." tank, but this year, those who were waiting outside the grounds of Taylor's mansion were greeted with silence. According to People, "Though there was a large inflatable slide set up in the yard again this year, there were no signs of a party. Teenage fans camped out at a nearby lighthouse with 'We Love You Taylor' signs were slightly rewarded when Swift's father sent over 1989 guitar picks." First of all, define "slightly rewarded." Secondly, the Fourth of July party seemed like the obvious time for Swift to introduce her new British beau Joe Alwyn to the public. When will she do that now? Will there be a Labor Day bash? A Columbus Day cookout? Maybe she'll go British with a trip to Wimbledon, or by calling a squad-wide snap election.