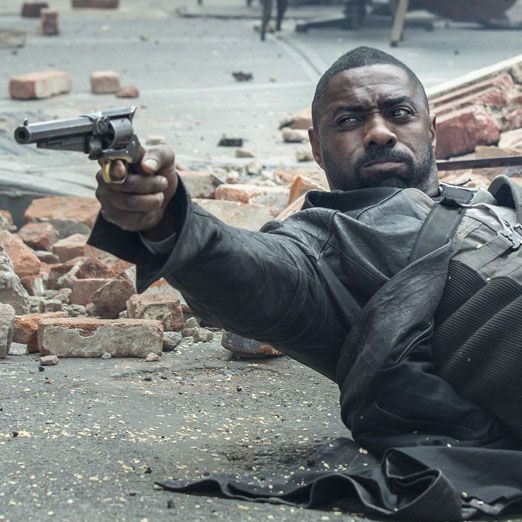 Idris Elba in
The Dark Tower
.
Photo: Columbia Pictures
Even by the verbose standards of its author, Stephen King's Dark Tower series is a massive undertaking: Wikipedia has it totaling out to 4,250 pages and 1,334,631 words across eight separate books. And when the onscreen adaptation of the franchise was announced, it appeared that it would be a similarly ambitious affair, with TV installments in play in addition to a number of movies. But now the run time of the first film has been revealed, and it doesn't just run counter to the seemingly infinite length of King's novels — it's also a sharp turn away from the prevailing trend in contemporary summer blockbuster-dom.
According to the British Board of Film Classification, The Dark Tower will run only 95 minutes. Such a seemingly modest film has supposedly raised the hackles of hard-core Stephen King fans hoping the movies would at least try to match the complexity and mythological expansiveness of the books. While it could still do that — after all, Akira Kurosawa only needed 88 minutes for Rashomon — The Dark Tower is pretty much guaranteed to be an anomaly in theaters. This summer, the 20 highest-grossing films so far have averaged out at a hefty 115-minute run time, highlighted by the 149-minute marathon of Michael Bay's fifth Transformers; the 141-minute long runaway hit Wonder Woman; and War for the Planet of the Apes' 140 minutes of simian-on-Homo-sapiens violence.
In fact, if you remove a few titles from the equation — comedies The House, Snatched, and Rough Night, the kid-targeted Despicable Me 3, Cars 3, Captain Underpants, and Everything Everything, and the indie 47 Meters Down — you're left with the 12 movies that seem to best represent the type of fare that characterizes the summer season: studio wide-releases that feature either superheroes, monsters, big stars, or real-life subjects. Those 12 movies clock in at an average run time of 129 minutes, or 34 minutes longer than The Dark Tower's alleged length — the longest of the group being Transformers, the shortest being the 107-minute The Mummy.
Why are these movies so long? You could blame a few factors, including the prevalence of cinematic universes, in which films often have to carry the narrative weight of both their own story and a larger, more complicated one, as well as the rising budgets of studio productions and the increasing sense that every outing needs to be a potential worldwide megahit. But length has characterized the successes as well as the failures of this summer's slate: Guardians 2, Wonder Woman, and Spider-Man: Homecoming keep you in the theater even longer than Pirates, King Arthur, and Alien: Covenant. While bloating has been mentioned as an aspect of sequel fatigue, it doesn't seem to be a factor when audiences don't mind what they're getting more of.
In that sense, it's hard to draw too stark a conclusion from The Dark Tower's relatively abbreviated running time. On the one hand, you'd certainly expect a film based on such dense and abundant material, especially one hoping to launch a franchise, to be more in line with its overstuffed world-building peers. On the other, The Dark Tower's reported $60 million budget is even lighter in comparison to these other films than its length is, and if that is in fact what it cost, then it needs to make far less money to be considered a success than the likes of Transformers or Pirates. Who knows: After sitting through those behemoths, The Dark Tower might seem like a breath of fresh air. Unless it's bad, of course, in which case, 95 minutes will be 95 minutes too many.