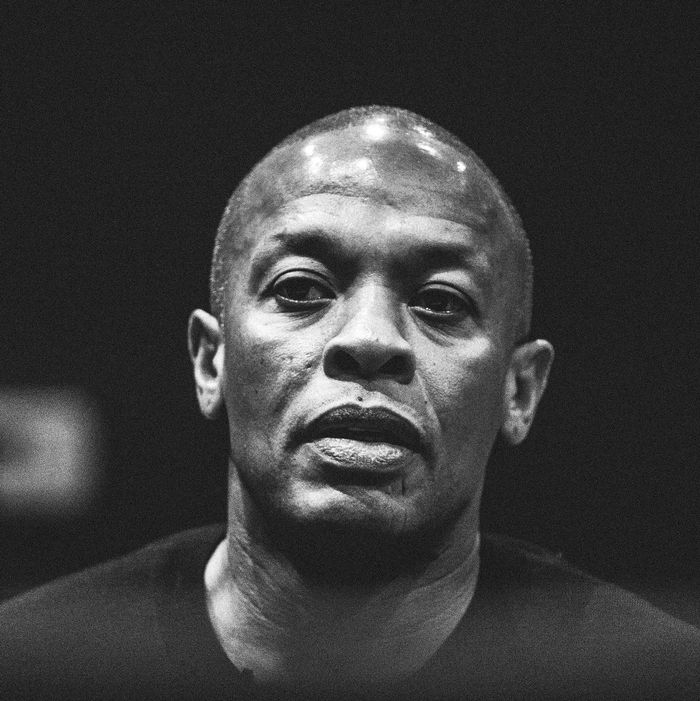 Documentaries about musicians, or any prominent cultural figure, for that matter, have a tendency to deify their subjects. The Defiant Ones — an HBO docuseries about musical pioneers and business partners Dr. Dre and Jimmy Iovine that airs for four consecutive nights beginning Sunday — certainly falls into that overly celebratory trap at times. But the careers of both men are so inherently interesting, and the incorporated footage of some of the most revered pop musicians in history doing their thing is so much fun to watch, that you may be willing to forgive the show's overuse of words like visionary and genius.
As a warts-and-all biography or character study, The Defiant Ones scratches some surfaces but never fully breaks the skin. A lot of the backstory involving Dre, the artist and producer who first rose to prominence as a founding member of N.W.A., will already be familiar to anyone who saw the 2015 film Straight Outta Compton or has ingested any of the many articles, books, or documentaries about that era in hip-hop history. That said, there is a certain authenticity that comes from seeing Dre, his colleagues, and family members speak directly here to the triumphs and controversies the group encountered in the late '80s and '90s, even though there are some subjects — the death of his brother Tyree, the degree to which violence began to escalate at Death Row Records — that he's not willing to discuss at length on camera.
Iovine, the accomplished producer, co-founder of Interscope Records, and partner with Dre in the Beats by Dre headphone-and-speaker business, is a bit more forthcoming about some of his darker moments. But the most candid insights into both men's psyches come from the many accomplished musicians who have worked with them and appear in the series.
"Jimmy has this brutal honesty," says U2's Bono. "It can appear rude. Lots of people don't like him. But brutal honesty is why you want him in the room." Bono also says, at a later point: "There's something in him that's attracted to rage."
"Of course it's all driven by his low self-esteem," adds Bruce Springsteen. "But so are we all."
The underlying message in these comments and others like them is that the more maddening qualities Dre and Iovine may possess — stubbornness, a tendency to shut out loved ones to focus on work, that aforementioned rudeness — have also fueled their success in some way. Watching how that success evolved — and, more important, getting peeks into their creative processes — gives this series its lifeblood and is what ultimately makes it so compelling. In a way, The Defiant Ones functions as a broad-brush history of some of the key moments in rock and hip-hop over the last four decades. If you're a sucker for music documentaries, and I am, that's enough of a reason to watch.
The behind-the-scenes footage that director Allen Hughes — best known for directing, with his brother Albert, such films as Menace II Society and From Hell — weaves into the narrative is wonderfully intimate. We get to see a 20-something Iovine, working as an engineer on Springsteen's Born to Run; Dre guiding a frustrated Eazy-E through an early recording session; Iovine in the studio alongside then-girlfriend Stevie Nicks as she's laying down the tracks on her first solo record, Bella Donna; and Dre helping Eminem discover the real Slim Shady. It's a gift to witness all of these moments.
At times, the directing and editing choices can tip a little over the top. The triumphant music laid over the moment when Dre and Iovine recall coming up with the idea for Beats, for example, makes it seem like the two of them have cured cancer while simultaneously inventing time travel. Other moments are more inspired, like a sequence in the third episode that deftly cuts between Dre's recollections of speeding away from cops and imagery from the video of "Closer" by Interscope artist Nine Inch Nails. As a montage, it effectively captures the chaos and danger represented by the music Dre and Iovine were putting out in the '90s.
One of the most fascinating elements in The Defiant Ones emerges perhaps unintentionally, and that is the relationship that women have to these two men and their work. Over and over, wives, mothers, and sisters portray themselves as willing caretakers who understand that their needs have to take a backseat in order for Dre and Iovine to thrive.
Dre's history with abuse of women is touched on as well. Dee Barnes, the host of the hip-hop news show Pump It Up, who was assaulted by Dre in 1991 after incorporating footage of ex-N.W.A. member Ice Cube into a segment about the band, appears in the docuseries and talks about the incident, for which Dre apologizes on camera. She also makes the point that the success of the all-female rap group J.J. Fad, who recorded the hit "Supersonic" for Ruthless Records, N.W.A.'s initial label, paved the way for the band's success. "A female group opened the door for N.W.A.," she says.
It's notable, too, to watch Nicks and Iovine interact in the studio during the Bella Donna days. After hearing about how important it was to indulge Springsteen's hyper-detail-oriented approach to making Born to Run in the first episode, it's revealing to see Iovine arguing with Nicks — then the primary voice in Fleetwood Mac, one of the most successful bands on the planet — because of issues she's raising in the studio until she, as so many women do, backs down for the sake of keeping the peace.
Iovine ultimately wrangled the song "Stop Draggin' My Heart Around" from another one of his artists, Tom Petty, and convinced him to sing it with Nicks because he was convinced Bella Donna wouldn't have a hit without it. "You're going to come out with this record with lace and veils and candles all over it," Iovine remembers telling Nicks, "and no one's going to hear it." The documentary fails to note that "Edge of Seventeen" and "Leather and Lace," both written by Nicks, were significant hits off that same album with veils and candles all over it.
Bottom line: The Defiant Ones is an absorbing look at two men — one white and raised in Brooklyn, the other black and straight outta Compton — who overcame a lot and have accomplished a great deal. But I guess what I'm also saying is that if HBO wants to green-light an incisive documentary series about the making of Nicks's first solo album or the often overlooked role that women played in the early days of hip-hop, I am 100 percent here for it.