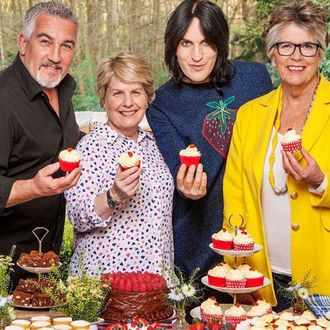 Seemingly unaware of why millions and millions of people tune into The Great British Bake Off every week, the show's new network has vowed to revitalize the program to make it better suited for modern times. What the hell does that mean, you ask? Speaking at Channel 4's annual Upfront event, chief creative officer Jay Hunt teased a few of the network's plans for Bake Off — and well, we don't want to get your bottoms all soggy, but they don't sound too promising. "This is Bake Off but with an extraordinary, high caliber of contributors and it's got a slight Channel 4 feel to it," she explained. "We've got a new tone to it, it's got a new comic riff to it I think that feels modern and future-facing." Ah yes, modern and future-facing, two adjectives that people like to describe Bake Off as being.
While Hunt wouldn't elaborate too much on what new "modern" aspects of the series will be — a KitchenAid-sponsored confessional room? An aftershow with Chris Hardwick? — she heavily implied that the humor would be getting a complete overhaul. "There are no soggy-bottom jokes on the first show," she said. "The show is modern in terms of its comic take and a lot of the humour will come from Noel [Fielding]'s surreal twists."
As a brief recap, Bake Off is moving from BBC One to Channel 4 after seven seasons; the production company that makes the show, Love Productions, decided to go with the dough and get a better payday by moving networks. Judge Mary Berry and co-hosts Mel Giedroyc and Sue Perkins decided not to follow the show to Channel 4 out of loyalty, although judge (and traitor) Paul Hollywood decided to make the move. Noel Fielding and Sandi Toksvig will be replacing Giedroyc and Perkins for the hosting duties, while Prue Leith will take the reins from Berry. Only time will tell if this new hosting lineup will be any good.