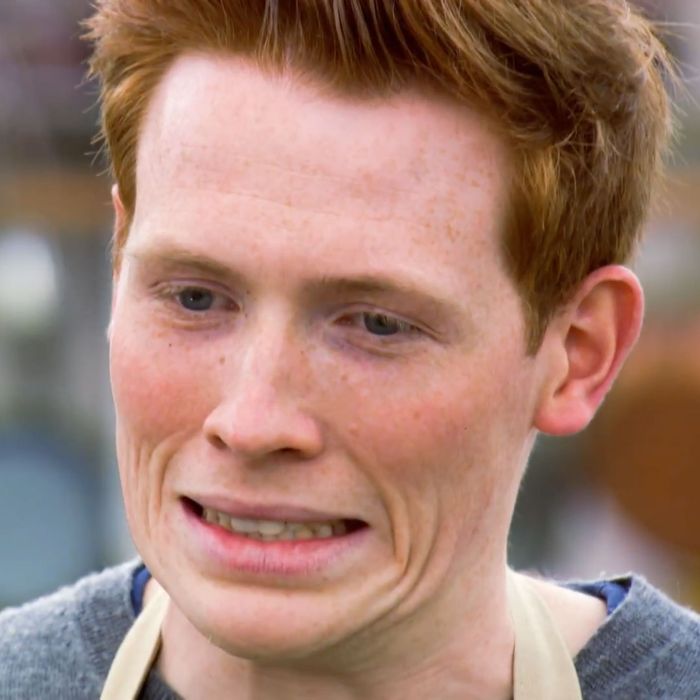 As of this episode, a Snow White–esque seven bakers remain in the tent. Sue counts them off: Flakey, Bakey, Little Bit Shaky, Achy, Cakey, Awful-Lot-at-Stake-y. "And Andrew," Mel adds. What in the name of crème anglaise are we going to do without these women next year?
It's pouring rain on the first day of plant-themed Botanical Week, but that hasn't deterred garden designer Jane from busting out a summery floral-print blouse for the occasion. The showstopper challenge requires bakers to produce a meringue pie with a citrus-curd filling. Mary wants to see both a crisp pastry and a crisp meringue, the delectable result of whisking egg whites and sugar into soft peaks. After that, Mary firmly believes that the pie should be put in the oven to achieve maximal meringue crunchiness. Browning the goods with a blowtorch just won't cut it.
Once upon a time, Benjamina used to hate grapefruit, but trying a grapefruit meringue pie changed her mind and now she's baking one of her own, with ginger for added flair. (Benjamina, I don't like grapefruit. Please show me the error of my ways by sending me a replica of this pie via international express mail as soon as possible.) Selasi, too, is making use of Satan's own bitter breakfast in his grapefruit, orange, and mint meringue pie, decorated with fresh pomegranate and physalis (which is also a fruit, apparently!).
Andrew draws inspiration from his mother's key-lime pie, with the addition of not one, not two, but three types of ginger. I trust Andrew, but he is grating what appears to be an utterly insane amount of ginger. There may very well have been a worldwide ginger crisis after this episode was filmed. Rav's mandarin-margarita meringue pie features some sneaky tequila in the curd. He plans on using a spatula to make wave patterns in the meringue rather than piping it on, which, I'm sorry, Rav, already sounds like a poor choice. Tom's pumpkin pie will feature an unusual pecan meringue and a drizzle of blood-orange syrup. This sounds amazing to me, but then again, I'm essentially a walking, talking listicle from 2014 about the 31 biggest reasons basic bitches love fall (no. 3: sweaters!).
Jane's lime-and-coconut meringue pie is inspired by the Harry Nilsson song (yes, that Harry Nilsson song), which she and her husband can't help themselves from singing whenever anyone mentions lime or coconut. And now you and I shall have it in our heads for the next six-to-eight months. Thanks, Jane! To finish off her lime, coconut, and lemongrass sugar pie, Candice plans on piping coconut meringue with a dash of bright green painted inside her pastry bag for color.
Jane wins praise for her yummy flavors and attractive green filling. Jane, notably, didn't just rely on a blowtorch for finishing touches, but baked her meringue in the oven. Mary Berry knows best. Candice's own green pie came out far greener than she anticipated: The neon streaks in the meringue make it look like a slime-based prank dessert you might see featured in the pages of the late, great Nickelodeon magazine. (Usually, I would mean this as a compliment.) The good news is that the curd is delicious.
Benjamina's pie tastes as gorgeous as it looks, with perfectly executed and delicately browned swirls of meringue. Selasi's decoration is also lovely, but unfortunately, this beauty is only crust-deep. His curd is too dry, meaning Benjamina is the victor of the Great Grapefruit Meringue Battle of series seven. Rav's meringue is trying to escape from his pie by glooping (technical term) its way down the sides. The tequila flavor, too, seems to have defected from the dessert. Andrew's meringue lacks volume and his pastry is disconcertingly thick, but the curd tastes great. Alas, the overwhelming sweetness of Tom's pumpkin has obliterated any hint of the all-important citrus element.
This week's technical is the predictably bread-themed brainchild of Paul. The assignment is to bake two fougasses, a French herb bread not unlike focaccia. To achieve a (vaguely) leaf-shaped loaf, the bakers must cut two "consecutive" vertical slashes down the center of the dough, and six diagonal slashes on each side. Some of the bakers have a passing familiarity with this dish, but Tom loves fougasse. "It's actually my cinema snack," he says. I have many questions. Do you mean as a snack for movies you watch at home, Tom? Or do you frequent a theater that serves fougasse? Or, in the same way that I might slip a sleeve of Oreos in a deep-coat pocket, are you routinely smuggling an unwieldy French herb bread to your seat?
There's some confusion about the meaning of "consecutive" slashes (one on top of the other, or next to one another?), and bakers find themselves drawing little schematics of the shape of their eventual fougasses. "I've never been so stressed about dough in my life," Tom says.
In the end, some come out pale and spongy. Other fougasses are misshapen — yes, those cuts were meant to be one on top of the other. Coming in first in the technical is fougasse-aficionado Tom, followed by Benjamina. Selasi comes in last, followed by Andrew.
The botanical showstopper is dangerously open to interpretation: a three-tier floral cake. What's a "floral" cake, then? Well, you can decorate it with flowers, you can put flowers in it, you can put flowers on it, you can fill it with flowers. Whatever you do, it better be beautiful.
Andrew's "Spring Elderflower Trio" will contain a cherry-almond sponge, a lemon-elderflower drizzle cake, and a strawberry-vanilla cake, all decorated with primroses and primulas. Rav plans to pipe flowers onto his "Blossom Cake," iced with Swiss meringue buttercream and in which all three tiers will be orange-blossom and vanilla sponge. He's the first to admit his bakes aren't "pretty" (which is a little like going on Drag Race without knowing how to sew), but he presses on nonetheless. "Do you like doing this?" Mel asks Rav of piping his flowers. "I hate it," he answers without hesitation.
Paul is skeptical of Tom's floral tea cake, but it sounds delicious to me. Among his three tiers are elderflower, jasmine, and green-tea-infused genoise sponges. To flavor the third layer, Tom crushes chamomile flowers then steeps them in hot butter. (It looks like he's making a THC-infused cake, to be perfectly honest with you. Humble suggestion for series eight: Weed Week.) Benjamina's own floral tea cake — two tiers of chamomile, honey, and poppyseed with an orange blossom and almond cake in the middle — will be semi-naked, only partially covered in frosting. The prospect of a naked cake seems utterly novel to Sue, who apparently does not follow anyone who got married in Brooklyn in the last calendar year on Instagram.
The women of Bake-Off have been killing it, but Selasi is ready to "represent the boys" with his three-tiered ombré floral cake, which has layers of carrot; strawberry and vanilla; and lemon and poppyseed. Candice's ambitious "Four Seasons Cake" begins with a chocolate-orange blossom tier to symbolize spring; lemon raspberry and rose for summer; spiced carrot for autumn; and up top, a winter fruitcake based on her Nan's hand-written recipe. Jane is increasingly anxious that her three-tier floral cake involves only floral decoration — including sugar-paste flowers and a painted chocolate collar — but not actual floral flavors. Worse, the melted and colored white chocolate she applied to those collars is looking, well, ever more "abstract."
The judges find Andrew's cake a little plain, with the only decorations being a solitary line of those fresh flowers and "single blobs" (Mary's words) of frosting piped around the edges. She also pans his elderflower flavor. "It's so subtle I can't find it," Mary says. For once, it looks like diligent, focused Andrew might be near the bottom. Candice's playful four-seasons cake (remember, she only had to make three tiers!) has a lot of character. Though Paul finds the autumn layer rubbery, the cake otherwise gets great reviews. Benjamina's very natural cake (is it weird to call a cake "natural," like it was discovered fully baked and frosted out in the wilderness somewhere?) strikes Paul as "unfinished," though her orange-flavored layer is "spot on."
Oh, Rav. The piped flowers look a bit better than I expected, but I am sorry to say this messy, unevenly frosted cake looks like something I might have baked myself. The most damning feedback comes from Mary, who finds Rav's creation uncreative — it could have been much bolder, she says, in flavor and in color. Jane's cake certainly looks bold, with its bright, splashy colors, but that's about all the overbaked result has going for it. Paul, not incorrectly, says the white-chocolate ganache between the tiers looks like mashed potato.
Piped from top to bottom with perfect roses in shades of pink and white, Selasi's cake is a true showstopper, stunning in every way. "You've done every single layer perfect," Paul tells him. Selasi beams. Tom's well-baked tiers of genoise are full of flavor and prettily decorated to boot. Paul admits he's really impressed.
Tom rides his fondness for fougasse to the glory of Star Baker. Sadly, Rav is heading home. Rav, we'll remember you fondly whenever we think of lime and coconut, which right now — thanks to Jane and Harry Nilsson — is pretty much constantly.