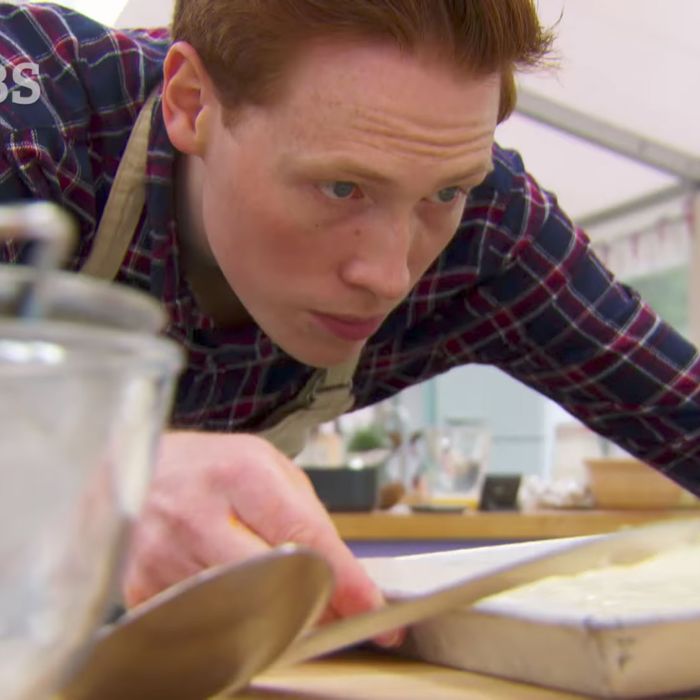 It's Dessert Week! That may sound like an oddly redundant theme for a show that traffics specifically in sweet baked goods, but this is England, and England is like outer space, but fancy.
The week's signature challenge is a "family-sized" roulade, better known as … a Swiss roll! This quintessential Bake-Off dessert must have a well-executed spiral. A sponge that's even slightly overbaked will crack when rolled up. "Think of a roulade like a good sandwich. If you put too much filling in, you're not going to get it into your mouth. I might, but most people wouldn't," says Paul, apparently reading aloud excerpts from his Match.co.uk profile.
Most of the bakers make whisked, fatless sponges, except Selasi, who folds melted butter into his batter. (Selasi is my kind of people.) His "Summer Picnic" roulade will be a classic combination of fresh strawberries, cream, and lemon curd. Tom puts a "very small" amount of nutmeg — famous last words — into the sponge for his millionaire's-shortbread-inspired roulade, featuring chocolate ganache, salted caramel, and crumbled shortbread.
Benjamina's piña-colada roulade marries grilled pineapple with coconut rum and mascarpone, rolled in a coconut sponge. She wants to make sure the rum flavor comes through, so she takes the bold step of adding "quite a bit" more than she has previously. May God be with you, Benjamina. Andrew, too, intends to take our mouths on vacation. His "Tropical Holiday" roulade is lovingly plagiarized from his dad, who made it for their last three Christmases. In addition to banana, it incorporates passionfruit caramel, which nobody ever told me was a caramel option.
Candice's "Crowd Pleaser" sounds like it will live up to its name: a white chocolate roulade with passionfruit and raspberry-cheesecake filling, covered in freeze-dried raspberries. Jane's chocolate-and-hazelnut roulade — which she makes "reasonably frequently at home" — is her husband's favorite. It combines a chocolate-and-hazelnut sponge with whipped cream and all-important boozy-chocolate-and-hazelnut paste.
Selasi adds sugar to his lemon curd to counteract its bitter aftertaste, then gives Benjamina a taste for her opinion. After she expresses her approval, he makes a gloriously goofy face of triumph directly into the camera. (When the season originally aired in the U.K., this flirty exchange incited a minor social-media frenzy of fans hoping that Selasi and Benjamina would fall in love and conceive the first ever Bake-Off baby. Sadly, it was not to be.)
Come judging time, Paul doesn't love that Jane's lovely roulade — which she rolled up on the long side rather than on the short side so there'd be more slices (Jane, you see, is a genius) — lacks a full roll, but the texture is impeccable. The alcohol is "almost ruining" the flavor, to Paul's taste, but you know my girl Mary is down with "the little bit of tipple." Benjamina serves up her roulade with a festive little pink umbrella, though I am momentarily horrified when I mistake the chunks of grilled pineapple adorning its top for pickles. She achieves a perfectly baked sponge, although the coconut essence tastes a little artificial.
Tom, poor Tom. His millionaire's roulade is not the graceful cylinder that it should be, but more of a pentagon extruding along its Z-axis. Theoretically, a baker should show off the cross-sectional view of their Swiss roll's elegant spiral, but Tom has covered the sides of his bake in ganache. "What's that hiding?" Paul asks. Inside, there is indeed a spiral, albeit a wonky one. Fortunately, it tastes better than it looks. Meanwhile, Candice's roulade is beautifully presented with fresh flowers and berries. The filling is delicious, but the cheesecake inside hasn't quite set. Andrew's elegantly designed roll is made slightly less elegant by the filling squishing out its sides, but it tastes so good that Mary emits what I can only describe as a growl of pleasure when she eats it. Paul calls Selasi's sponge "the star of the show," though Mary wishes the roll had a little more lemon curd. In a post-challenge interview, Selasi waves a jar of that lemon curd: "It's a shame I jarred the rest of it. But yeah, I'm taking this home. It'd be good on toast."
This week's technical challenge is a marjolaine, which … what? The bakers seem as baffled as I am. It's a "French rectangular gateau," Sue explains. Oh, okay. Out of the tent, Paul and Mary, mercifully, get more specific: A marjolaine is assembled from layers of nutty meringue, praline buttercream, and ganache, covered in an alternating, colorful pattern of nuts.
Once their sheets of meringue are baked golden brown, the bakers must carefully bisect them. In the process, one of Andrew's meringues cracks, to his absolute horror. If you recorded his gasp and played it for me under the pretense that it was the sound of someone dying, I would believe you. Fortunately, this imperfection gets covered up as the cake is assembled — covered up so well, in fact, that Andrew comes in first, followed by Candice. Per Mary, Selasi's "a little bit drunk-looking" marjolaine is rated worst, followed by Tom's.
The showstopper challenge requires our bakers to produce 24 mini–mousse cakes with sponge, 12 each of two different flavors. That it's an awfully hot day in the tent only makes this task more difficult, as a warm mousse is both messy and unruly. The mousses will get their light texture thanks to the addition of whisked egg whites, and to ensure they will set, bakers will mix in gelatin, which they pronounce gela-teen, like it's a cool, teens-only version of gelatin that probably had a large following on Vine (R.I.P.).
Jane is making a total of five mousses, which I am exhausted just hearing about. She imprints a lovely fleur de lis pattern on the chocolate sponge for her chocolate, coffee, and vanilla joconde cakes. Her blackcurrant-and-vanilla ombré mousses will be topped with a fruit mirror glaze. Before long, she becomes paranoid that she left the gelatin out of one of her mousses, counting off the many bowls in front of her over and over again. "This is better than being at the gym," Jane says. "I've done more running today than I've done in months." Candice, too, takes an alarmingly ambitious route, so ambitious that I must have rewatched her explanation ten times and I still have only a vague idea of what's happening, though I feel confident that I would love to eat it. First up is her "Blackberry and Raspberry Bubbles," a prosecco-and-raspberry liqueur jelly served with berry mousse ( … et cetera), served in a champagne saucer. Her far more mercifully simple "After Dinner Mousse" is a chocolate-mint mousse concealing a heart-shaped chocolate sponge.
Half of Andrew's "Childhood Ice Cream" mousse cakes will be forest-fruit mousse on a vanilla-sponge base; the other half will be mint-chocolate mousse with honeycomb, served on his grandmother's chocolate sponge. (Andrew, does literally everyone in your family have a beloved original recipe?) All of them will be served on a custom-built mini–Ferris wheel, because Andrew is — and I say this with great affection — extremely extra.
Tom's "hipster's picnic" will disguise his carrot cake and apple mini-mousses as finger sandwiches — sliced sponge will serve as the tiny slices of bread, and the mousse will appear to be the filling between them — making something "ludicrously complicated" out of something simple. "Which is the hipster way," he says. He'll be piping his mousses rather than setting them in a mold, which Paul finds to be insane. Tom does not disagree. As a visibly distressed Tom struggles with the sandwich filling, Jane comes over and pats him on the back, reminding him to breathe. "It's not going very well," he whispers. By this point, everyone is fairly panicked, trying to finish the precarious work of unmolding and plating as quickly as possible without destroying their delicate desserts in the process.
All of Jane's mousses taste wonderful — they're just as light and aerated as they should be. "You've achieved great things," Mary tells her. Selasi's lemon, strawberry, and passionfruit cakes are appealing, but his chocolate-and-mint mini-mousse cakes lose points for their intimidatingly massive size. There's nothing "mini" about them. (It neither helps that they are a radioactive bright green nor that they haven't properly set.) Candice's mousses are on the verge of melting in the heat by the time the judges try them. The champagne mousse is quite the spectacle, but the chocolate-mint mousse is technically more of a cream.
Benjamina, as always, has baked two things I would very much love to eat: an apple-crumble mousse cake and a chocolate-coffee mousse cake with roasted hazelnuts. They both come out sloppy, there's no denying that, but I'm not sure I remember the last time the judges were so effusive in their praise of a bake's flavor, let alone of two bakes' flavors. "Oh, wow, they taste amazing," Paul says. As a general rule, Paul is not really an "oh, wow" type of guy. Paul and Mary appreciate the originality of Tom's hipster picnic, but can't get over its lack of finesse. They also think it fails to meet the specifications of the challenge, given that the filling is much heavier than a mousse. But Andrew's mousses are nothing short of stunning, beautiful little strata of vibrant color. Paul thinks they taste "divine," too.
Andrew is crowned Star Baker, to the genuine excitement of all his tentmates. I'm very sorry to say that Tom is tapped to go home, although he seems at peace with the decision. I'll miss you, Tom! Thank you for inspiring me to sneak an elaborate herb bread into my local movie theater.