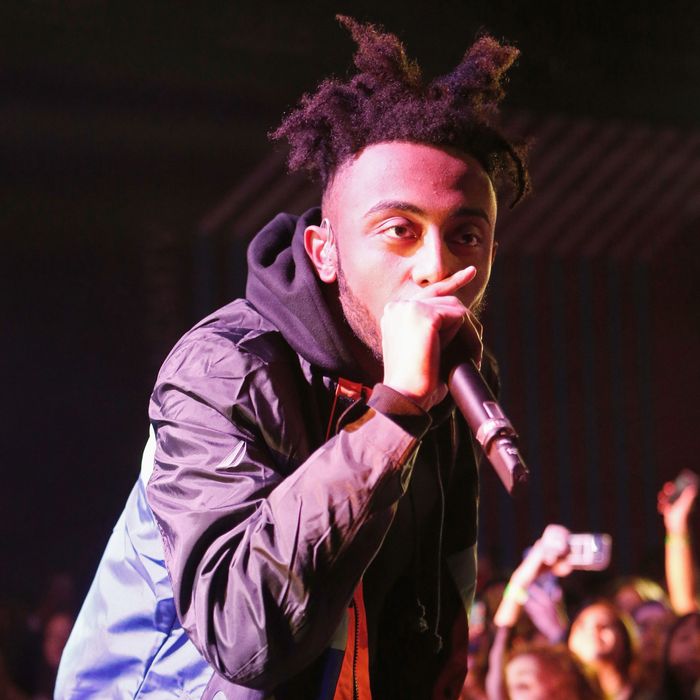 Aminé.
Photo: Mark Davis/Getty Images for MTV
There's a meaningful split to be made in North American pop between night music and day music, and it's hard to not feel, in 2017, that the long night is spreading. Though Team Day-Glo put forth a strong effort in 2016 with Chance the Rapper, Yachty, D.R.A.M., and the first act of Kanye's Life of Pablo, it seems fair to say that, no matter whether stylish or jagged, submerged and shadowy sonics prevail. Good cheer is in short supply. Though he's touring this year and not releasing new music, the army of the night's field marshal remains, as ever, the Weeknd, an artist on record as saying his music doesn't make sense in the day and who made a single with the EDM duo Disclosure titled "Nocturnal" just to repeat the point.
Like the Weeknd, the bright new artist Aminé is the son of Ethiopian immigrants, but the similarities with the prince of darkness seem to end there. In many ways, he's the anti-Weeknd: While Abel Tesfaye dropped out of high school and abandoned a single mother to live a hand-to-mouth existence in the Toronto slums, Aminé, was raised in a two-parent, middle-class household in Portland, Oregon, where he went on to attend college. Born Adam Daniel (his stage name is his middle name), he made a huge splash in 2016 with "Caroline," a self-produced, self-released, sure-footed banger whose lyrics name-checked Tarantino and whose video paid homage to Pulp Fiction.
Combined with the usual requisite relentless behind-the-scenes grinding (documented in a glowing New York Times profile today), the success of "Caroline" — it crested at No. 11 on the Hot 100 and went triple platinum — led to a major deal with Republic Records (also home to the Weeknd, coincidentally). A trail of upbeat singles has built up to the release, today, of Good for You, an album whose solar-yellow cover fairly glows with positive energy. With the rest of his carefree cohort flailing or otherwise occupied, Good for You is clearly the best album Team Brightside has to offer so far this year: Aminé's melodies remain deft, luminous, and blindingly pleasant throughout.
Yet the half-sarcastic, half-sincere title suggests an attitude more complicated than blind optimism. Though the tunes are chipper and almost aggressively glad, the lyrics, though mostly oriented toward progress, are often marked by signs of stress and conflict. "STFU," with its foul-mouthed, gleefully high-pitched chorus set over xylophone-esque synths, exemplifies the tension between uplift and realism. Between a girlfriend who brings too much drama and musical peers who posture too damn much, Aminé's high spirits are going to have to fight for every inch of elevation. The musician's natural enemy, it seems, is pointless noise, and he's not afraid to call it out: Lines like "Shut the fuck up, quit giving me hell" sound, strangely enough, more pointed when delivered in a cheerful tone. Even the people on his side aren't helping matters much: "Friends need an Uber, sis need tuition / Fans want the music, but they want a politician / Pressure, pressure, pressure, pressure, pressure." If his music almost feels as if it's too much in the sun, it may well be because he's seen his share of darker days.