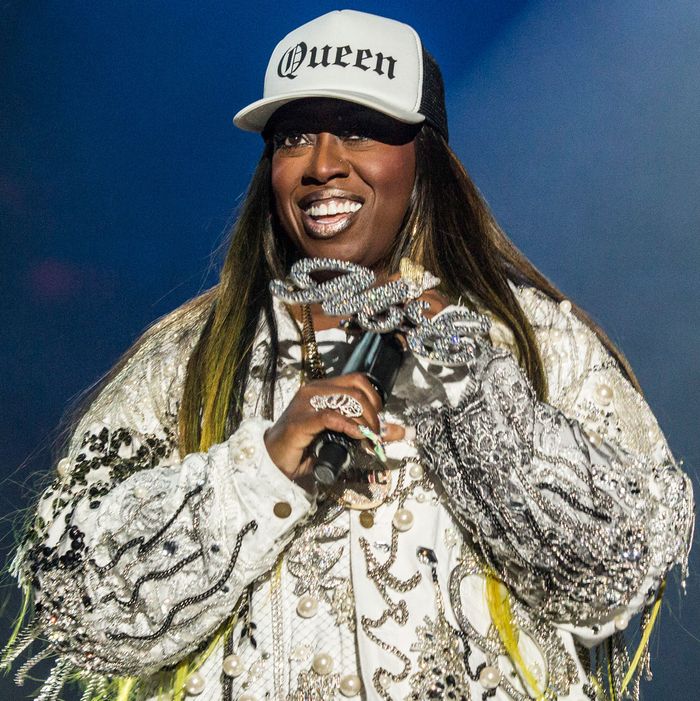 Missy Elliott is back.
Photo: Harmony Gerber/FilmMagic
For her first solo show in America in almost a decade, Missy Elliott arrived onstage in a vessel fit for a sci-fi pop empress. A large gray block with purple track lights was wheeled out by her dancers, background music swelled, mirror-lined doors opened, and out popped the queen, looking fresh and fierce. Rocking a sparkling white rhinestone jacket and matching pants, she immediately launched into her unapologetic 1999 anthem, "She's a Bitch."
The performance was the latest development in the long-gestating return of Missy Elliott. Prior to her appearance at FYF Festival in Los Angeles, the 46-year-old artist, producer, and songwriter had methodically reintegrated herself back into the music world, performing at the Super Bowl in 2015 alongside Katy Perry (an appearance that led to old Missy hits waltzing their way up the iTunes charts), singing along with Michelle Obama in a Carpool Karaoke sketch, and releasing two new singles and accompanying videos: the sparse, staccato "I'm Better" and the percussion-heavy "WTF (Where They From)." They weren't exactly "Get Ur Freak On," but they were still close to classic Missy: fun, off-kilter, catchy. Meanwhile, she began work on a new album, the long-awaited follow-up to 2005's The Cookbook.
Missy fandom runs deep, and the response to her comeback — along with the prospect of new music — has been overwhelmingly positive. But she is returning to a changed landscape. Today, pop, and the conversation around it, moves at light speed. It is consumed and quickly disposed of by an audience constantly fiending for new material. Meanwhile, contemporary acts have taken a page out of Missy's book by tapping into experimentation. There's Kanye West with his suspended Saint Pablo stage and proto-punk record Yeezus; Beyoncé exploring the dimensions of black female empowerment and toxic masculinity on Lemonade; and FKA Twigs transforming ethereal, moody electronic soul into mini–performance art pieces.
Current artists are able to push boundaries in 2017 because of the work Missy has put in over the last two decades. There's a reason Beyoncé, Solange, Björk, Katy Perry, Janet Jackson, and Tyler, the Creator all came out to her FYF show. She has spent her career mixing a volatile and colorful array of styles, sounds, and designs. Hers was a futuristic, otherworldly aura, one rooted in science fiction, feminism, and urban landscapes. She was hip-hop's David Bowie — the black beauty queen and weirdo, the class clown and the quiet creative kid. In her world, these traits weren't contradictions, they were complements.
So how do you uphold that reputation when you've been out of pocket longer than Magoo? (Speaking of which, where the hell is Magoo?) And what does it mean for Missy Elliott to return at a time when famous artists are more open to trying something odd, when pop culture is more inclusive of the bodies she once championed, when female sexuality is more freely flaunted? We won't know for sure until a full Missy album materializes, but judging by her most recent music videos, she has no plans on coasting. Who else but her would dress like a sentient Roy Lichtenstein painting?
But then, her return to the stage at FYF wasn't nearly as innovative. It was fun and frantic, sure, but other than some outfit changes, it featured none of the visual pizzazz you might expect from the first Missy show in years, nor any new tracks outside "I'm Better" and "WTF." This didn't temper the excitement of the crowd, and most existent fans would likely be pleased if Missy went on to do a Missy Misdemeanor Plays the Hits World Tour. But this is an artist who has never been content with the status quo. You will not see a Missy Vegas residency any time soon. Few artists are more reflexively self-aware of the music they're making and image they're projecting than her. As she recently told Rachel Kaadzi Ghansah in an excellent Elle cover story, "One thing I won't do is compromise. I will never do something based on what everybody else is telling me to do… I have to make sure that it's right. I've been through so many stumbling blocks to build a legacy, so I wouldn't want to do something just to fit in. Because I never fit in."
The quote harkens back why she's been so quiet lately. Since her last album release, she's mostly stuck to producing songs for other artists, including Jazmine Sullivan on her debut album Fearless and its acclaimed follow-up, Love Me Back, along with tracks for her friend and collaborator Monica.Then, in 2012, she decided to drop two new unfocused and unfortunately forgettable Timbaland-produced singles, "9th Inning" and "Triple Threat." But the reaction was muted, so she went back to the drawing board. Missy may not be one to play it safe, but she's not going to risk her entire career on something lackluster. When she makes music, she likes to aim for the future. She once described the sounds of her second album, Da Real World, as something you might hear in the year 3000: "When [the year] 2000 come we go 3. When 3 come we go 4, so we always ahead of everybody." She was probably being hyperbolic, but would it be all that surprising if she were actually telling the truth? The quote fits with a woman who is willing to bop around in an inflated black patent-leather suit, or turn a Punjabi-inspired hip-hop track into a worldwide dance anthem, or openly flaunt her sex appeal even when her body didn't fit into preconceived female pop-star dimensions.
Missy, after all, is no fool. Twelve years may have passed since her last proper record, but she still knows you're only as hot as your last joint, and that one false move could turn your modern pioneer status into a permanent nostalgia act. "I have to be very careful," she told Billboard in 2015. "It's different now. People are quick to be like, 'You're irrelevant, you're a flop, you're washed up.'"
It's hard to think anyone might ever refer to Missy Elliott as washed up. Thankfully, her best case for longevity might be tied not only to how groundbreaking her new work is, but how young viewers react to it. During her Super Bowl appearance, some kids wondered if she was a new artist. As Missy tweeted after, "I think it's cool new kids think I'm a new artist that goes to show u that I'm still on 🔥 & will rip down stages 20 yrs later." Now that she's back, I wouldn't bet against it.