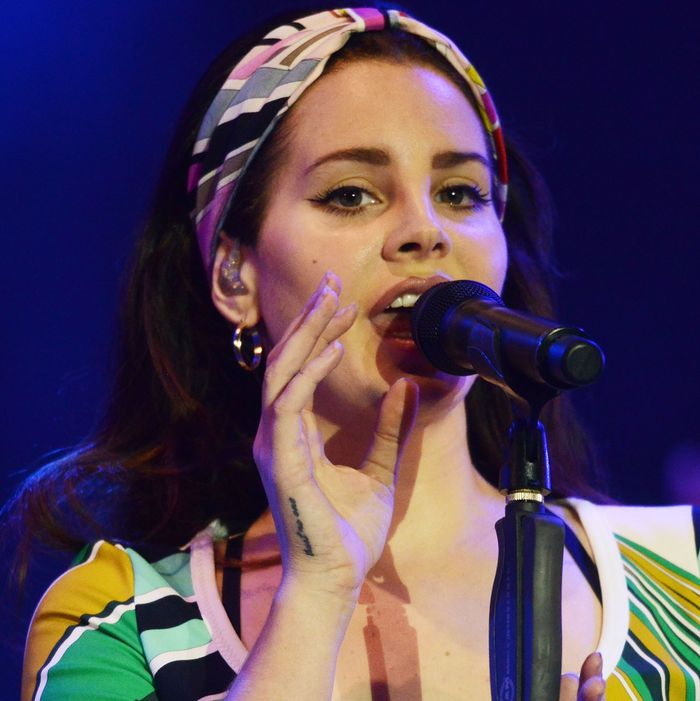 All your new Instagram captions in one place.
Photo: Dave J Hogan/Dave J Hogan/Getty Images
Today Lana Del Rey releases her fifth album, Lust for Life, transporting us all back to her trippy, nostalgic, motif-heavy universe conveniently located in the heart of Hollyweird. In honor of the occasion, we invite you to play along with the latest Lana Mad Libs: Peaches! Blood! Charles Manson! Corsets! Rosemary and thyme! Coachella! Lennon and Yoko! Presenting the most Lana Del Rey things Lana Del Rey says on Lust for Life, ranked from quintessential Lana to absolute Peak Lana.
15. "I've got a war in my mind," "Get Free"
A lyric so Lana she's uttered the exact same sentence before on 2012's "Ride." Even more Lana: She alludes to that song in the very next line, "I want to get off but I keep riding the ride." We see you, Lana.
14. "It's more than just a video game," "Beautiful People, Beautiful Problems"
At this point, Lana's just trolling us.
13. "You can't escape my affection / Wrap you up in my daisy chains," "Summer Bummer"
Were you expecting Lana to trap you with actual torture devices?
12. "You're part of the past but now you're the future," "Love"
Isn't that just the Lana Del Rey ethos bottled in a lyric?
11. "Slippin' on my dress in soft filters," "White Mustang"
Soft! Filters! This is the lyrical encapsulation of her Instagram theme.
10. "I don't belong in the world, that's what it is," "13 Beaches"
Celestial Queen Lana, in all her glory.
9. "It's so sweet pouring you a drink and pretending that nothing means anything," "Groupie Love"
Searching for clear meaning in a Lana lyric will forever be a fool's errand.
8. "We dance on the H of the Hollywood sign," "Lust for Life"
The whole premise of Lust for Life, according to its trailer, is that Lana keeps close watch over all her fellow Hollyweirdos from her tower within the Hollywood sign. (The H, for optimal space and comfort.) It's so literal and so Lana it hurts.
7. "My celluloid scenes are ripped at the seams," "Cherry"
Never underestimate the lengths to which Lana will go to prove her Golden Age cinephile cred.
6. "My cherries and wine, rosemary and thyme, and all of my peaches are ruined (bitch)," "Cherry"
Also, do not doubt that Lana will work everything that makes Lana Lana into a single song. Quoting Simon and Garfunkel, then tacking on a casual expletive just because?
5. "God bless America and all the beautiful women in it / May you stand proud and strong like Lady Liberty shining all night long," "God Bless America – And All the Beautiful Women in It"
She said America. Drink!
"Is it the end of an era? Is the end of America?" "When the World Was at War We Kept Dancing"
Drink again!
4. "I was at Coachella leaning on your shoulder watching your husband swing and shine / I'd say he was hella cool to win them over / Critics can be so mean sometimes," "Coachella – Woodstock in My Mind"
This song is quite possibly the Lana lyric Olympics. It has everything: Coachella, Woodstock, flower crowns. But this particular lyric takes the gold because it is about kneeling at the altar of Father John Misty's Coachella set. It's hard to get more Lana than that.
3. "Topanga's hot today, Manson's in the air," "Heroin"
This lyric gets double points for referencing not one, but two Lana tropes: California and Hollywood murder. Topanga used to be a haven for actors and musicians tired of living in the big city of Los Angeles and in need of a their own secluded community where they could do what artists do in peace. Lana, as you know, is fixated on Old Hollywood nostalgia. "Manson," of course, is Charles Manson. This isn't the first time Lana's used him in her work.
2. "Lennon and Yoko, we would play all day long," "Tomorrow Never Came"
If Lana name-dropping John Lennon and Yoko Ono on a song in which she duets with their son, Sean Ono Lennon, and then acknowledges that irony in the next verse isn't Peak Lana, what is?
1. "I'm crying while I'm cummin'," "In My Feelings"
This.