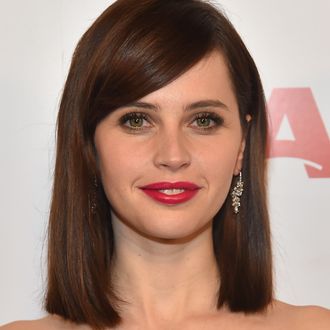 Photo: Alberto E. Rodriguez/Getty Images
With so many superheros and fighting robots battling for your box-office dollars, there's one thing everyone has overlooked in the blockbuster game: Tchaikovsky. Hollywood has finally had this epiphany, and, according to The Hollywood Reporter, a bidding war has commenced for a "tentpole film" version of Pyotr Ilyich Tchaikovsky's massively popular ballet Swan Lake. It's set to star Felicity Jones and has Luca Guadagnino attached to direct a script from Kristina Lauren Anderson, who gained some heat in 2014 with a highly touted Black List script.
Guadagnino is having a standout year with the Sundance hit Call My by Your Name arriving in theaters later this year, along with his adaptation of the Dario Argento classic Suspiria. And Jones is an Oscar nominee (The Theory of Everything) who knows her way around a "tentpole," having starred in last year's Rogue One: A Star Wars Story. Playing Jyn Erso will likely be a lot different than playing Princess Odette, who was turned into a swan by a sorcerer's curse. But then again, maybe it won't be? Is a science-fiction war film with a semi-unhappy ending really so different from a classic of the Bolshoi Ballet that finds a woman trapped in the corporeal form of a swan? Yeah, it really is, but there's a common thread here having to do with struggle and freedom. Probably. According to THR, studio heavyweights like Universal and Paramount are in the bidding mix, so we'll find out what a big, Hollywood Swan Lake looks like soon enough.