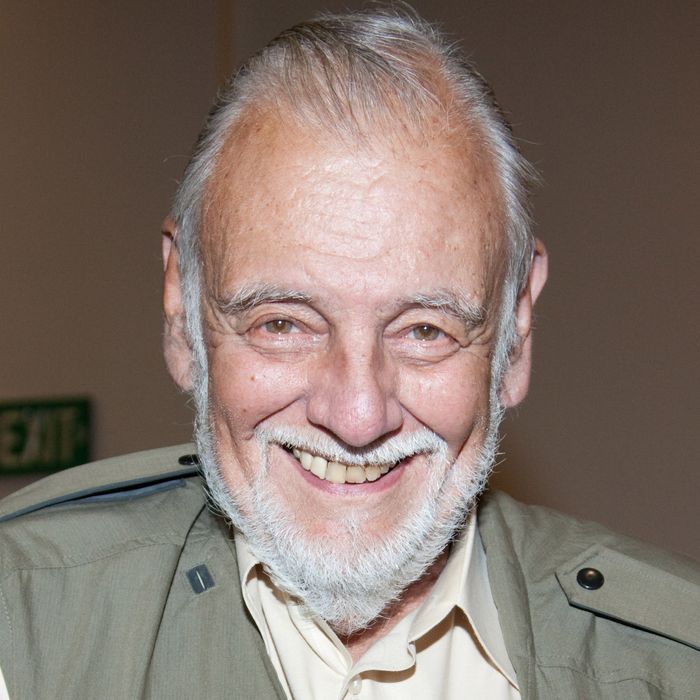 George Romero.
Photo: Anna Webber/WireImage
It's hard to accept the inventor of the undead dying, but there it is — George Romero, dead at 77. At least he's getting a proper send-off. The New York Times has already published four pieces about Romero: a nice multicolumn obit, an op-ed page "appreciation," a discussion by critics Jason Zinoman and A.O. Scott, and a look at his most memorable films. Scott connects the director of The Night of the Living Dead with other "horror auteurs" like Wes Craven and Tobe Hooper, and uses the phrase "transgressive frisson" to describe the filmmaker's influence on current horror, like Jordan Peele's Get Out. This is a particularly appropriate tribute considering Romero — a Bronx-born Famous Monsters of Filmland movie loon who blew off his high-school prom at St. Helena's to go down to 42nd Street and see Hitchcock's The Man Who Knew Too Much twice — was a grand master of a willfully sort of grade-B filmmaking.
Romero's in the underground horror hall of fame thanks to the interview scene from Night of the Living Dead alone. A newsman asks the sheriff what the public should do if surrounded by "six or eight of these things." The sheriff replies, "Well, there's no problem. If you have a gun, shoot 'em in the head, that's a sure way to kill 'em. If you don't, get yourself a club or a torch. Beat 'em, or burn 'em, they go up pretty easy … They're dead. They're all messed up." That said, the look on the mom's face when she sees her daughter eating the dad's arm isn't too bad either. When you consider that Romero managed to stay almost completely below the radar, yet still single-handedly kick-started what became a billion-dollar genre market, this is what might be called a mighty gambit in modern pop culture.
Such adulation might have seemed chimerical as my wife and I drove across the state of Pennsylvania in 1980, heading for Pittsburgh (then still in its black-lung phase) to be extras in a George Romero movie. This was a little strange, since the picture Romero was shooting, Knightriders, was 100 percent zombie-free, a King Arthur "jousting" story starring Ed Harris with the horses updated to dirt bikes. It seemed insane to be an extra in a George Romero movie and not get to play a zombie, disjointed and spasmodic, pushing a cart through a shopping center (Romero called it a "temple of consumerism") like the lucky freaks in Dawn of the Dead. This potential disappointment was well-understood by Romero who — bearded, bearish, flat-out friendly — actually offered an apology about the situation. Better than most, he knew that, down deep, there was something in the human soul that wanted to be a zombie: free from worldly obligation, fake blood and sinew bubbling from between your lips.
This was the sort of Buddha-like knowledge that made me love George Romero. We became friends for a period of time, and had a couple of adventures I continue to treasure. There was the time that Romero, then a relatively hot commodity due to the success of Dawn of the Dead, was making the rounds of the Hollywood studios on the slight chance that his off-the-grid EC Comic movie chops might mesh with mainstream means of production. I had an idea about a wisecracking Godzilla-style monster, so we took a meeting with Steve Bach, who — despite producing Michael Cimino's legendarily ill-fated Heaven's Gate — still had the big office at United Artists.
The executive's desk looked like a B-52–sized boomerang, with him in the middle and a white-shirted, black-tied assistant seated at either end. He greeted us warmly, bidding George to unfurl the pitch. This was something Romero did with characteristic bravado, acting out all the parts. It was about then that one of the assistants told Bach there was a call he had to take. The executive apologized, spoke on the phone for a few moments, then hung up. Romero started up again, inventing accents for characters. There was another phone call, again icing Romero's flow. When it happened a third time, Romero turned to me and said, "Let's go."
"You mean, just get up and leave?" I asked. Bach was still on the phone. "Yeah," the director of Night of the Living Dead said, lifting his sizable weight from his chair. The executive was calling to George as we left the room, but Romero kept going. When we were in the elevator, he said he really didn't think the Hollywood thing was going to work out anyway. I think it was the best meeting I ever had out there.
Other incidents with Romero also stand out. Like the time we went to dinner with Stephen King, who called Romero his "favorite collaborator." The two of them were preparing to make Creepshow, and King was, as advertised, totally easygoing and talkative, although he did occasionally doodle on his napkin. When dinner was over, the famous author had left a neat stack of nearly identical napkins, each one covered with intricately drawn spiderwebs. I showed the items to Romero, who shrugged. "He does that," Romero said, like it took one to know one.
There is one other George Romero story I'd like to tell. This is a different mode, since it was told to me only yesterday by my 20-year-old nephew, who has been known to a spend an hour or two playing video games. He informed me that there is a Call of Duty add-on, Call of the Dead, where the targets are incarnations of modern horror figures, like Sarah Michelle Gellar in Buffy mode, Robert Englund, and half the cast of the The Walking Dead. George was a character, too, listed as "The Director" and "The Godfather of All Zombies."
My nephew said that even though the game wasn't very difficult, the Romero character proved problematic. "He's supposed to be a boss figure, I guess, with some mystical powers. He's here and there," he said. "He's really hard to kill."