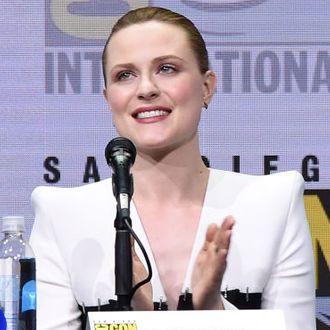 Evan Rachel Wood.
Photo: Kevin Winter/Getty Images
Two strong themes emerged from the Westworld panel at San Diego Comic-Con on Saturday. First of all, no one really knows what's going on, and second, the women of this show love being a part of Westworld.
When moderator Reggie Watts asked Evan Rachel Wood about playing a multifaceted character like Dolores, she described nothing short of a wholly transformative life event. "It's almost hard to talk about it because I get really emotional, because working on the show changed my life in many different ways," Wood explained. "I knew that I wasn't going to stay this kind of damsel in distress, that I would become strong, but my little brain didn't go much further than that, or didn't fully grasp how deep it was going to go, and just how profound it was going to be, and how she finds her strength. I had no idea."
After going through a minor existential crisis and experiencing a few panic attacks thinking about the responsibility of shouldering the role of Dolores, Wood ultimately was motivated by the chance to walk the line between exploitation and empowerment that Westworld worked to balance the tension of throughout its first season.
"It's so fulfilling, because especially as women — and I don't know if this is true for men, too — but a lot of times you feel like your wings have been clipped and you're not being represented the way that you want to. And this was just like somebody had given me fucking condor wings and I got to take off and fly! And I'm tearing up just talking about it, because it's so important, and it's so important right now to be a part of that. And to go on that journey with her and learn things about myself, and to put my own experiences in what she was going through, and using that as a vehicle to walk through my own false reality, or my own repressed memories or trauma and breaking through and coming out on the other side — it was just transformative and fun … I just gave everything. I would drive home covered in bruises and blood, and be happy, because it was for something amazing."
For her part, Angela Sarafyan said she wrote a thank-you note to the writers for giving her the scene in which Clementine "beats the shit out of that guy" in the laboratory, while Thandie Newton echoed the sentiment of her co-star Wood, saying that Maeve had given her the chance to break free of restrictions she typically feels as both a female professional and in the roles she plays. Answering a question about whether or not she wants to see Maeve journey inward or use her newfound power to control the humans around her, Newton said Westworld was the first time she completely trusted the people writing material for her.
"I'm a control freak, and I feel like that is the way forward to have power in a situation, particularly in a professional environment. Especially being a woman. It's tough! You're always looking over your shoulder. You're always checking in with, 'Am I being respected? What do I have to do to try and further my situation?' I started out on this show, and it's the weirdest thing.

Like,'You're going to be a Madame in a saloon, and you're going to be naked 75 percent of the time,' and there's me like, 'I really want to try and further empowerment of women!' And for the first time in my professional life, and in my personal life, too, I have complete trust and faith in what these people are writing, and in where they're taking this show. To the point where I have no idea, and I am excited to find out what it's going to be, because I know absolutely that I couldn't predict how tremendous, how inspiring it's going to be. I don't have it in me, but these people do. It is the most extraordinary feeling to be able to surrender, and to trust the way we get to trust. So, I don't know, but I can't fucking wait to find out."