While organizing his personal archives, former Walt Disney imagineer Tom K. Morris stumbled upon a note scrawled on Mickey Mouse letterhead. The list, which reads like a bar's '80s-night playlist, catalogues the songs he used while attempting to bring synchronized audio onboard Space Mountain, Disneyland's intergalactic indoor roller coaster, in 1985.
Disney theme-park attractions already had sound and music at the time, but the audio never fully matched with the actual ride movement — a process that's commonplace today. Because of this, Morris posted the note to Twitter rather innocuously, not expecting much reaction from his 1985 experiment. But Disney fanatics have begun freaking out about the Space Mountain mixtape, turning the track listing into a Spotify playlist, syncing the songs to YouTube ride-through videos of the attraction, and even plugging in on the ride to experience the pitch-black coaster in its full glory.
Following that reaction, Morris, who was shocked he still had some original tapes, uploaded the audio from his test runs online — meaning that, yes, your favorite childhood ride has a lost '80s pop-rock soundtrack you can now enjoy on your next trip to Disneyland.
The song list — dubbed "Space Morris" by fans — includes a bevy of up-tempo '80s jams ("Turning Japanese" by the Vapors, "We Got the Beat" by the Go-Go's, Devo's "Whip It") that the former imagineer tried matching to Space Mountain's unique ride profile, which starts with three consecutive suspense-building lifts before whooshing through the starry sky.
The task of syncing audio to the ride, which could vary up to five seconds due to temperature, time of day, and even newness of wheels, was somewhat Herculean. Working on and off for the better part of a year to match each song with the coaster's "milestone points," Morris, who lived in Orange County at the time, would stop by Disneyland Park before or after work to note average ride times and test out songs before making adjustments on his 4-track cassette-tape mixer back home. "I knew some of the [staff], and they would just let me in because they thought it was cool," he says. "It was so low-tech and I was not an audio engineer so I had to learn this myself, but I was pretty good at timing."
The haunting vocals of B-52's "Party Out of Bounds/Private Idaho" worked better than others on the playlist while speeding through Space Mountain's abyss, but the brassy "Favourite Shirts (Boy Meets Girl)," by flash-in-the-pan British New Wave band Haircut 100, proved perfect due to its "lickety-split" tempo. (The original cassette audio was layered onto a ride-through video and is, guaranteed, the trippiest thing you'll see all day.)
The only other song to work seamlessly was a dramatic section of the John Williams–penned soundtrack to E.T. The Extra-Terrestrial, which along with the Haircut 100 version was demonstrated for multiple Disney executives. "Rock and roll — believe it or not — in 1985 at Disney was controversial," said Morris, explaining the choice. "E.T. was family- friendly, people could relate because it was like flying through space."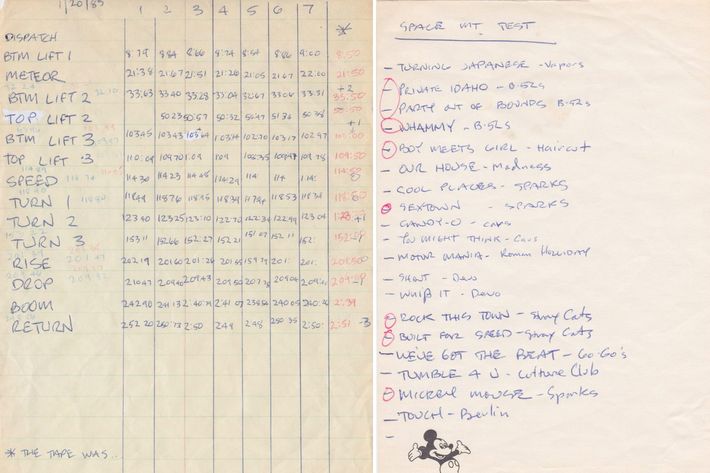 The coaster plunges its guests into darkness on a wind-whipped ride that feels much faster than the 30 mph it's actually moving. As such, it demands audio that heightens the riders' senses and exaggerates the coaster's speed. The ambient soundtrack on Space Mountain plays to its interplanetary nature, but Morris's version — particularly with regards to Haircut 100 — improves upon it. Groovy guitar riffs make passing through tunnels of pulsating lights more thrilling, as does winding down in a final burst of light amid staccato horns. There is also more ride to enjoy this way. Instead of Space Mountain's first minute acting as a setup for the journey, with Morris's accompaniment, it's already begun by the time you enter its star-specked dome.
Space Morris came close to becoming a reality, but the higher-ups ultimately didn't proceed with the now-accessible funked-out experience. The ride was popular on its own, and the tech simply wasn't there at the time to support onboard audio, properly rigged vehicles, nor to even demo it properly, as Morris had to use an audio splitter, headphones, and a cassette Walkman with the volume cranked all the way up to battle the noise of the ride.
The '80s dream would have died there, but his vision of a ride accompanied by guitar licks and high-energy rock would be realized soon thereafter. Though Morris went on to work closely with Disneyland Paris, he successfully re-pitched his idea when a new Disney park was being opened Stateside. That ride? It's none other than the Aerosmith-themed Rock 'n' Roller Coaster, which remains wildly popular at Disney's Hollywood Studios at Walt Disney World to this day.