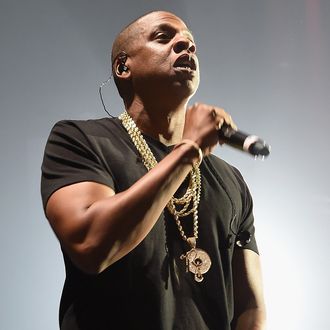 Another week, another slate of Jay-Z songs to dive into.
Photo: Jamie McCarthy/Getty Images for Live Nation
True to his team's word, a physical edition of Jay-Z's 4:44 featuring three bonus tracks will be released sooner you than you think. According to a track list on the release schedule of an international branch of Universal Music, it's out Friday, July 7, with the songs heard in teasers for the supposed visual component of the album included. "Adnis" (teased in Mahershala Ali and Danny Glover's promo), "MaNyfaCedGod" (teased in Lupita Nyong'o's promo), and "Blue's Freestyle / We Family" (which seemingly hasn't yet been teased, but sounds great) will be tacked on to the original ten tracks of the digital version. Young Guru, the album's engineer, previously hinted that "Adnis" would see a future release. Meanwhile, No I.D., the album's producer, said that the three songs will be "equally as revealing" as the rest of the album and that James Blake, who also worked on Beyoncé's Lemonade, was involved. The rest of 4:44 will reportedly also become available on streaming beyond Tidal when its exclusivity expires tonight. As for the NC-17 film used in the teasers for the bonus songs — which Ali shared a poster for the day of the album's release — keep your eyes peeled.