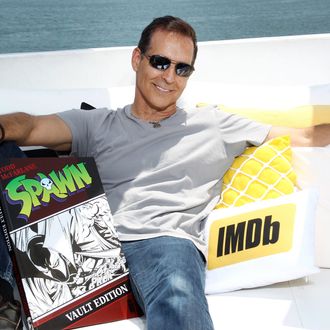 Photo: Tommaso Boddi/Getty Images for IMDb
If you were a child during the late '90s and loved watching movies you were maybe too young for, there are few late-night viewing experiences that imprinted on you as strongly as the 1997 version of Todd McFarlane's Spawn — or, more specifically, John Leguizamo's turn in the film as Spawn's grotesque nemesis, Violator, a demon who is, unfortunately, also a clown. While visiting San Diego Comic-Con, comic-book creator McFarlane gleefully revealed that the long-gestating cinematic reboot for his undead antihero would be happening with the help of Blumhouse, the horror production studio behind Get Out, Split, and most of your other favorite recent horror films.
With Kevin Smith standing by, McFarlane announced his partnership with Blumhouse and promised that his new Spawn film would receive an R-rating. "It's coming," he explained. "Get ready for it. We're going into production." Blum also confirmed the project in a tweet. Black Dynamite's Michael Jai White starred in the previous film adaptation of the comic series, which was also turned into an animated HBO series from 1997-1999. It's probably a little early to start making casting decisions, but honestly … John Leguizamo at least deserves a courtesy call.