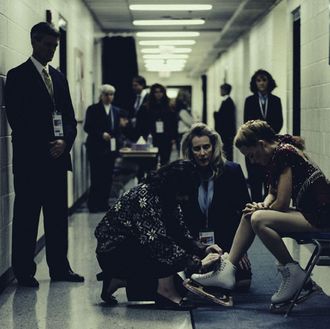 The Toronto International Film Festival released its 2017 slate, featuring movies that are sure to be awards-season heavyweights. It's early days for a lot of these movies, but there are a handful of performances by top actresses to look out for: Jennifer Lawrence in Darren Aronofsky's mysterious mother!, Margot Robbie as Tonya Harding in I, Tonya, Elle Fanning in a Mary Shelley biopic, and Annette Bening as Gloria Grahame (In a Lonely Place, The Big Heat) in Film Stars Don't Die in Liverpool. Sundance standouts Mudbound and Call Me by Your Name will also play at TIFF, along with a notable Cannes selection, BPM (Beats Per Minute).
Read the official summaries and credits of the films coming to TIFF 2017 below.
GALA PRESENTATIONS
Breathe, Andy Serkis, United Kingdom, world premiere
Actor Andy Serkis makes his directorial debut with the inspiring true love story of Robin and Diana Cavendish (Andrew Garfield and Claire Foy), an adventurous couple who refuse to give up in the face of a devastating disease.
The Catcher Was a Spy, Ben Lewin, USA, world premiere
A sterling cast — including Paul Rudd, Guy Pearce, Jeff Daniels, Paul Giamatti, Sienna Miller, Mark Strong, Tom Wilkinson, and Connie Nielsen — star in this biopic of Moe Berg, the former professional baseball player who became a secret agent in the OSS during World War II.
C'est la vie!, Olivier Nakache, Eric Toledano, France, world premiere
Directing duo Olivier Nakache and Eric Toledano (The Intouchables, Samba) serve up a delightful comedy about a long-suffering caterer hoping to get through one last, mishap-heavy dinner party.
Darkest Hour, Joe Wright, United Kingdom, Canadian premiere
Gary Oldman steps into the imposing persona of Winston Churchill in Joe Wright's (Pride and Prejudice, Atonement) period drama set in the early years of the Second World War, when Churchill's rousing leadership inspired a nation.
Film Stars Don't Die in Liverpool, Paul McGuigan, United Kingdom, Canadian premiere
Annette Bening and Jamie Bell star in this adaptation of the memoir by British actor Peter Turner, recounting his romance with the legendary (and legendarily eccentric) Hollywood star Gloria Grahame during the last years of her life.
Kings, Deniz Gamze Ergüven, France/Belgium, world premiere
A recluse (Daniel Craig) helps a woman (Halle Berry) and her 12 foster children when riots erupt in Los Angeles following the 1992 beating of Rodney King, in the English-language debut from writer-director Deniz Gamze Ergüven (Mustang).
Long Time Running, Jennifer Baichwal, Nicholas de Pencier, Canada, world premiere
Jennifer Baichwal and Nicholas de Pencier capture the emotional and powerful 2016 final tour by Canadian rock icons the Tragically Hip.
Mary Shelley, Haifaa Al Mansour, Ireland/United Kingdom/Luxembourg/USA, world premiere
Elle Fanning stars in this scintillating biopic of the Frankenstein author, chronicling her tempestuous marriage to dissolute poet Percy Bysshe Shelley and the fateful night at a Swiss chateau that inspired her most famous creation.
The Mountain Between Us, Hany Abu-Assad, USA, world premiere
A surgeon (Idris Elba) and a journalist (Kate Winslet) must rely on each other for survival when the small plane they share crashes in the wilderness.
Mudbound, Dee Rees, USA, international premiere
Carey Mulligan, Jason Clarke, Mary J. Blige, and Garrett Hedlund star in this ensemble drama from director Dee Rees, an adaptation of Hillary Jordan's prize-winning novel about simmering racial tensions in the Jim Crow South of the 1940s.
Stronger, David Gordon Green, USA, world premiere
David Gordon Green (George Washington, All the Real Girls) directs Jake Gyllenhaal and Tatiana Maslany in this adaptation of the memoir by Jeff Bauman, which recounts his struggles to adjust to a new kind of life after losing his legs in the Boston Marathon bombing.
Untitled Bryan Cranston/Kevin Hart Film, Neil Burger, USA, world premiere
Bryan Cranston and Kevin Hart star in this remake of the French hit The Intouchables, a dramatic buddy comedy about the unlikely friendship between a rich quadriplegic and his working-class caregiver.
The Wife, Björn Runge, United Kingdom/Sweden, world premiere
Jonathan Pryce, Glenn Close, and Christian Slater star in Björn Runge's adaptation of Meg Wolitzer's best-selling novel about an author who travels to Stockholm to collect her Nobel Prize — and leaves her husband in the process.
Woman Walks Ahead, Susanna White, USA, world premiere
Jessica Chastain stars in the true-life story of Catherine Weldon, a 19th-century Brooklyn artist who travelled to the Dakota Territory and became the confidante of legendary Sioux chief Sitting Bull.
SPECIAL PRESENTATIONS
Battle of the Sexes, Valerie Faris, Jonathan Dayton, USA, international premiere
Emma Stone and Steve Carell star in this recreation of the legendary 1973 tennis match that pitted Billie Jean King against Bobby Riggs.
BPM (Beats Per Minute), Robin Campillo, France, North American premiere
Writer-director Robin Campillo (Les Revenants, Eastern Boys) offers a harrowing yet inspiring look back at the activism of French ACT UP protestors during the height of the AIDS crisis in the late 1980s.
The Brawler, Anurag Kashyap, India, world premiere
A lower-caste boxer struggles to make his mark on the boxing world, in the highly anticipated film from Anurag Kashyap.
The Breadwinner, Nora Twomey, Canada/Ireland/Luxembourg, world premiere
Based on Deborah Ellis's award-winning novel, director Nora Twomey's The Breadwinner tells the extraordinary story of an 11-year-old Afghan girl who finds strength in the love of her family and the power of storytelling.
Call Me by Your Name, Luca Guadagnino, Italy/France, Canadian premiere
The latest from Italian auteur Luca Guadagnino ( I Am Love, A Bigger Splash) explores the tender, tentative relationship that blooms over the course of one summer between a 17-year-old boy on the cusp of adulthood (Timothée Chalamet) and his father's research assistant (Armie Hammer).
Catch the Wind, Gaël Morel, France, international premiere
A middle-aged factory worker's life is upended when she follows her employer to Morocco, in the latest film from French actor-director Gaël More.
The Children Act, Richard Eyre, United Kingdom, world premiere
Emma Thompson and Stanley Tucci star in this adaptation of the novel by Ian McEwan, about a high-court judge (Thompson) who finds personal and professional crises colliding when she is asked to rule in the case of a brilliant 18-year-old boy who is refusing the blood transfusion that would save his life.
The Current War, Alfonso Gomez-Rejon, USA, world premiere
Alfonso Gomez-Rejon (Me and Earl and the Dying Girl) directs Benedict Cumberbatch, Michael Shannon, Nicholas Hoult, Tom Holland, and Katherine Waterston in this biopic chronicling the race for sustainable electricity in the United States between Thomas Edison and George Westinghouse.
Disobedience, Sebastián Lelio, United Kingdom, world premiere
Sebastián Lelio directs Rachel Weisz and Rachel McAdams in this adaptation of Naomi Alderman's novel about a woman who returns home to her orthodox Jewish community in London and rekindles a romance with her cousin's wife.
Downsizing, Alexander Payne, USA, Canadian premiere
Matt Damon headlines a cast that includes Kristen Wiig, Christoph Waltz, Laura Dern, Jason Sudeikis, Alec Baldwin, and Neil Patrick Harris in Alexander Payne's sci-fi social satire about a man who chooses to shrink himself (literally) to simplify his life.
A Fantastic Woman, Sebastián Lelio, Chile, Canadian premiere
Chilean director Sebastián Lelio follows his 2013 Festival hit Gloria with this drama about a young transgender woman struggling with both her own grief and societal prejudice after the death of her middle-aged lover.
First They Killed My Father, Angelina Jolie, Cambodia, Canadian premiere
Angelina Jolie co-produces, co-writes, and directs this adaptation of the memoir by Loung Ung, which recounts the author's horrifying childhood experiences under the murderous Khmer Rouge regime in her native Cambodia.
The Guardians, Xavier Beauvois, France, world premiere
French director Xavier Beauvois's intimate drama explores the lives of women who are left behind to work a family farm during the Great War.
Hostiles, Scott Cooper, USA, international premiere
Christian Bale, Rosamund Pike, Jesse Plemons, Wes Studi, and Adam Beach star in this 19th-century Western drama from director Scott Cooper (Crazy Heart, Black Mass), about an Army captain who agrees to escort a dying Cheyenne war chief back to his tribal lands.
The Hungry, Bornila Chatterjee, India, world premiere
Writer-director Bornila Chatterjee relocates Shakespeare's bloody tragedy Titus Andronicus to modern-day India, where corruption, greed, and revenge run rampant at an extravagant wedding.
I, Tonya, Craig Gillespie, USA, world premiere
Margot Robbie plays Tonya Harding in this biopic of the disgraced Olympic figure skater.
Lady Bird, Greta Gerwig, USA, international premiere
mother!, Darren Aronofsky, USA, North American premiere
Jennifer Lawrence, Javier Bardem, Ed Harris, and Michelle Pfeiffer star in Darren Aronofsky's highly anticipated psychological thriller about a couple threatened by the arrival of univited guests to their tranquil home.
Novitiate, Maggie Betts, USA, international premiere
Oscar winner Melissa Leo (The Fighter) oversees a bevy of up-and-coming female actors in this drama about aspiring nuns at an isolated Catholic school in 1964, who are forced to reexamine their faith and their calling in light of the liberal reforms of Vatican II.
Omerta, Hansal Mehta, India, world premiere
Hansal Mehta recounts the story of infamous British-born terrorist Ahmed Omar Saeed Sheikh, who kidnapped and murdered Wall Street Journal reporter Daniel Pearl in 2002.
Plonger, Mélanie Laurent, France, world premiere
A restless photographer leaves her family to "find herself" and takes up deep-sea diving, in this emotional drama from Mélanie Laurent.
The Price of Success, Teddy Lussi-Modeste, France, international premiere
A comedian's relationship with his family crumbles when his career begins to take off, in this drama featuring a top-notch French cast including Tahar Rahim (The Past, A Prophet), Roschdy Zem (Bodybuilder, Days of Glory), and Maiwenn (Polisse, Love is the Perfect Crime).
Professor Marston & the Wonder Women, Angela Robinson, USA, world premiere
Luke Evans (High-Rise, Beauty and the Beast), Rebecca Hall (Christine), and Bella Heathcote (Fifty Shades Darker) star in this biopic of William Moulton Marston, the American psychologist who put his progressive ideals about female liberation into practice by creating the DC superhero Wonder Woman and living in an "extended relationship" with his wife and another woman.
The Rider, Chloé Zhao, USA, Canadian premiere
Chloé Zhao's (Songs My Brothers Taught Me) Art Cinema Award–winning impressionistic drama casts real-life wrangler Brady Jandreau as a South Dakota cowboy struggling to chart a new course.
A Season in France, Mahamat-Saleh Haroun, France, world premiere
An African high-school teacher (Eriq Ebouaney) flees his war-torn country for France, where he falls in love with a Frenchwoman (Sandrine Bonnaire) who offers a roof for him and his family.
The Shape of Water, Guillermo del Toro, USA, Canadian premiere
At the height of the Cold War, circa 1962, two workers in a high-tech U.S. government laboratory (Sally Hawkins and Oscar winner Octavia Spencer) discover a terrifying secret experiment, in this otherwordly fairy tale from Guillermo del Toro (Pan's Labyrinth).
Sheikh Jackson, Amr Salama, Egypt, world premiere
The sudden death of Michael Jackson sends a former King of Pop devotee — now a young imam — into a tailspin, in this tender and comedic film from Egyptian filmmaker Amr Salama.
The Square, Ruben Östlund, Sweden, North American premiere
Swedish provocateur Ruben Östlund (Force Majeure) took home the Palme d'Or at Cannes for this no-holds-barred satire of the postmodern art world, about a self-important curator whose attempts to mount an ambitious exhibition go hilariously awry.
Submergence, Wim Wenders, France/Germany/Spain, world premiere
The new film from the great Wim Wenders (Pina) is a globe-trotting romance about a water engineer (James McAvoy) and a deep-sea researcher (Oscar winner Alicia Vikander) striving to reconnect although separated by oceans, continents, and civil war.
Suburbicon, George Clooney, USA, North American premiere
George Clooney directs an all-star cast — including Matt Damon, Julianne Moore, Josh Brolin, and Oscar Isaac — in this caper comedy written by Joel and Ethan Coen, about a picture-perfect family that turns to blackmail, revenge, and betrayal after a home invasion turns deadly.
Thelma, Joachim Trier, Norway/Sweden/France/Denmark, international premiere
Recently moved to Oslo to attend school, a young woman falls in love and discovers that she possesses terrifying powers, in this supernatural thriller from acclaimed director Joachim Trier (Louder Than Bombs).
Three Billboards Outside Ebbing, Missouri, Martin McDonagh, USA, North American premiere
A frustrated and grieving mother (Frances McDormand) antagonizes her local police force (including Woody Harrelson and Sam Rockwell) to call attention to the lack of progress in the search for her daughter's killer, in the latest from dark-humor master Martin McDonagh.
Victoria and Abdul, Stephen Frears, United Kingdom, North American premiere
Acclaimed British auteur Stephen Frears reunites with his Philomena star, Academy Award winner Judi Dench, in this charming dramedy chronicling the friendship between Queen Victoria and a decades-younger Indian clerk named Abdul Karim.