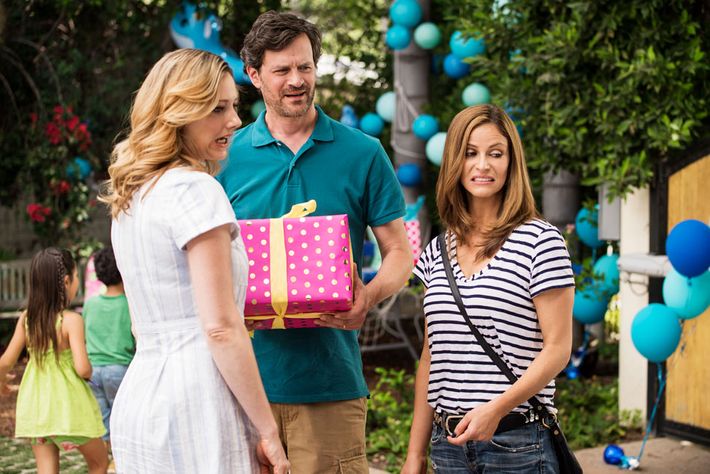 Even if you haven't heard of actress/comedian Andrea Savage, you've probably seen her. She's one of those that's been in just about everything – shows like Veep and The Hotwives, and movies like Step Brothers, just to name-drop a few. If it's still not ringing a bell, rest assured you'll be hearing a lot about Savage soon. She's about to launch her own comedy series, I'm Sorry, which premieres on July 12 at 10 p.m. on truTV. Produced by a stacked list of fellow funny people (like Will Ferrell and Andy Samberg), the loosely autobiographical series follows a comedy writer/mom/wife as she navigates very much relatable, yet slightly absurd scenarios. Like in the pilot when her 5-year-old daughter asks if she has "a huge vagina" (because how else would a baby ever get out?) very loudly in the middle of a restaurant.
We hopped on the phone to chat with Savage – she told us she was sitting in her car "pulled over in the side of the road like a real animal" at the time. We talked about her improv roots, what she's learned over the years, and the very real-feeling (and totally unapologetic) brand of comedy in I'm Sorry.
Let's start with your entry into the world of comedy – you got your start in the improv scene.
Andrea Savage: The Groundlings.
Tell me a little bit about that. What would you say were your biggest learnings from that time in your life?
I always did musical theater and gravitated towards the comedic, but for some reason, it was never on my radar that comedy was actually a profession. There weren't improv troupes in college or high school. But after, when I first started becoming an actor, comedy was where I would lean and do well. I took an acting class with Chris Parnell and he was like, "You should really try out for Groundlings." So I did – I went through the whole program there and really learned a lot in the sketch and improv world. But I think what I realized almost the most was that sketch comedy was not necessarily my favorite thing to do or the thing I was the best at. I realized that, for me, comedy coming from a more real place – a sort of enhanced version of myself – made up my most successful scenes and were what I enjoyed the most. That really just clicked.
Putting on a wig and an accent (even though I made it to the Sunday Company – I think that was just more just sheer will and working hard) wasn't my forte. And, I was in the Sunday Company with amazing sketch performers. I mean, Melissa McCarthy and I were in it together and she can't not kill. She is just amazing and it made me realize, "Oh, that's not my special skill." Mine is to do an enhanced or slightly altered version of myself … more grounded in reality. I was like, "Oh, okay. That's my thing."
In I'm Sorry, you take that approach – you've said the show is very autobiographical. How does that play out? For example, how does your dynamic with your own family influence the storylines? Did you draw on any crazy moments from your real life and translate them to screen?
Every storyline in every episode is drawn from my real life, so every character, every episode is all based on real stories. It's the most autobiographical thing I've ever done by far, and definitely the most "playing a version of myself" that I've ever done. Even the pilot – the fight in the dance class and the scene in the restaurant – happened almost word-for-word. Finding out that my daughter's friend's mom was a porn star happened. I found out and I didn't tell anybody, but she was outed … I don't want to give a ton of details so we don't give away too many storylines, but yeah, it really is drawing very closely from my life.
Aside from this autobiographical style of comedy being your natural sweet spot, why is this approach important to you? Is it filling a gap in the comedy space?
The shows that I like to watch are sort of those stable point-of-view shows where you feel like you get to know them and it feels real. I wanted the show to have that … not a documentary feel, but just shy of it. I wanted to have a female character who was a mom and also married and also worked that was not a formula character, not harried and like, "My husband, oh God. He's my last kid." Or the terrible mom, or any sort of caricature. I just wanted it to be like a real person in real life … each episode is nuanced and different and because they're based on real stories; it's a show that doesn't follow a formula. That was important to me.
I love watching Louie or Master of None or Curb … I  realized there's not really a female version of that on TV. That's what I wanted to do.
Tell us about the process of creating the show in the first place. You have some seriously funny people on board … Andy Samberg, Will Ferrell.
Basically, I was like, "I want to do this show." I had been writing and producing and acting for a while. I'd developed five or six or seven shows that hadn't gone, so I'd been through the development process and worked with networks for script development. I write a very certain way, and it's very tone-based. I was like, "I don't want to just write another script; I want to show what I'm talking about – I want to shoot something."
I've worked with Will Ferrell and Adam McKay's company a lot … they're awesome and they've always been super supportive. There's an executive, Jessica Elbaum, who's a good friend of mine. She sort of started her own area after being producer at Gary Sanchez for so long, called Gloria Sanchez (even though she still works with Gary), which a little bit more female-based. I was telling her about this and I said, "I have all these stories," and told her some of them. She called me the next day and was like, "Can I be involved? I want to do this with you. I know Will and Adam both love you."
So, she was there right in the beginning, and then we were looking for people who had money to shoot something, and Samberg's company had a deal with Fox where they could finance presentations. That's how we got on board over there, and Akiva [Schaffer, Lonely Island] and Jorma [Taccone, Lonely Island] and all those guys – I respect their comedy. So it was sort of a no-brainer to get them on board. Then we shot the presentation, and that's what we ended up showing as the pilot.
I really was like, "You need to see it. I don't want you to read it. I want you to see it." There are a lot of shows like this … because they don't have a sexy logline or anything, it's all just in execution. The loglines of Curb or Louie or Master of None  …  they're all basically just watching a person live their life. The thing that makes them so cool and unique is the execution. Those shows need to be seen first.
Was there any opportunity to put your improv skills to work?
Oh yeah. It's fully, fully, scripted, but with each scene at the end, we'll do improv runs and some of it's just to loosen up the dialogue and make it seem more real. It depends on who I'm with.
Tell us about the name of the show, I'm Sorry. How did you settle on that?
I came up with that title pretty early on. It was a little bit of a "sorry, not sorry." I'm not particularly apologetic in life and there's so much in the zeitgeist, like about women saying sorry too much, and "Why are we all apologizing?" In the pilot episode, obviously I am apologizing – but I feel like in life, I say "I'm sorry" a lot, but in a lot of different contexts than those people do. Like, "I'm sorry. What?" or, "I'm sorry. That is so stupid."
We're just a few days out from the premiere. What do you hope people will get out of the show?
Honestly, I just want them to laugh. I hope it's just a funny show – I wanted to do a pure comedy, not a dramedy and it's not a show that has a lot of deeper meaning. I just hope they find it hilarious and I hope that people relate to me and to all the characters; that they can sort of go, "Oh my God. That's us. That's me. Oh my God. That's how I would be in that situation. Oh God, my parents are doing that kind of stuff too. Maybe not that extreme, but oh my God. That's totally what happened." I just hope they legitimately find it funny and relatable.
Is there anything you'd like to add?
If you're in comedy and you're starting out, just don't stop forcing yourself to perform. Realize that it's creative, but it's also work and try to approach it like any other job – give it that much respect and also just that much time and energy because it needs it. Eventually, it will break through.
This is paid content produced for an advertiser by New York Brand Studio. The editorial staff of Vulture did not play a role in its creation.