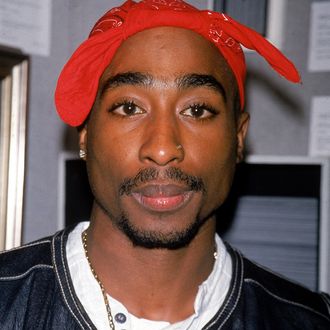 Tupac.
Photo: Time Life Pictures/The LIFE Picture Collection/Getty Images
A letter written by Tupac Shakur is heading to auction later this month and its contents are still just as riveting as they would have been 22 years ago. In the note, addressed January 15, 1995, which was obtained by TMZ, the rapper apologized to Madonna about the end of their romantic relationship. He admitted that race was on his mind, and his fears of how others would perceive their attraction. He wrote:
"For you to be seen with a black man wouldn't in any way jeopardize your career – if anything it would make you seem that much more open and exciting. But for me, at least in my previous perception, I felt due to my 'image,' I would be letting down half of the people who made me what I thought I was. I never meant to hurt you."
Tupac also explained that he felt hurt after watching an interview with Madonna where the pop star allegedly mentioned dating rappers, plural. "You said 'I'm off to rehabilitate all the rappers and basketball players' or something to that affect," the MC recalled. "Those words cut me deep seeing as how I had never known you to be with any rappers besides myself. It was at this moment out of hurt and natural instinct to strike back and defend my hurt and ego that I said a lot of things."
Shakur wanted to put the past behind them, continuing, "Please understand my previous position as that of a young man with limited experience with an extremely famous sex symbol." He added that since their split, "I have grown both spiritually and mentally."
The letter ends with a humble request that Madonna visit him, so that they can see each other face-to-face. He also offered an ominous warning: "Everyone is not as honorable as they seem. There are those whose hearts bleed with envy and evil. They would not hesitate to do you harm!"
Shakur died the following year in 1996, six days after he was fatally shot by a gunman in a drive-by shooting.