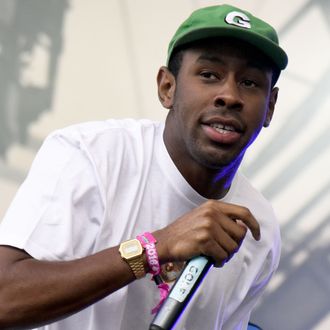 At least it's creative.
Photo: Tim Mosenfelder/FilmMagic
Lest you thought 26-year-old Tyler, the Creator had caved to maturity with the removal of "fuck" from his infamous Twitter handle last summer, he's only found a louder way to drop the expletive: Tyler's fourth album is out July 21 and it's called — wait for it — Scum Fuck Flower Boy. Take it in. Shake your fist. Envision screaming at Tyler & Co. to get off your lawn. Now let those crotchety feelings pass. Scum Fuck Flower Boy (it gets funnier the more you look at it) will feature two sides, two separate covers (one designed by Tyler), and 14 songs in total. You've heard "Who Dat Boy" and "911/Mr. Lonely," now feast your eyes on even more amusing song titles such as "I Ain't Got Time!" and "Glitter." This is his first album since 2015's Cherry Bomb — a simpler, more censored time.