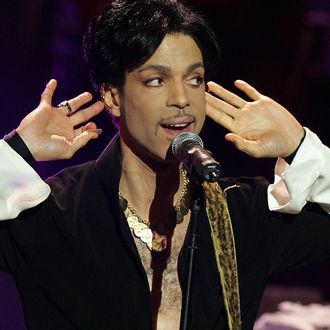 Photo: Kevin Winter/Getty Images
The embattled deal between Universal Music Group and the Prince estate officially ended today when a court voided the $31 million agreement. As previously reported by Vulture, the deal would have made UMG "the exclusive publishing administrator of Prince's vast oeuvre, meaning it would get to work with Prince's estate on how best to release the findings from his Paisley Park vault as well as licensing the rest of his catalog." The two parties first came to terms last November, but Universal has been trying to break the deal for months, claiming that "Prince's estate lied about which parts of Prince's music history Universal could touch." According to The Hollywood Reporter, three of Prince's half-siblings and the lawyers working on their behalf had been trying to salvage the deal in recent weeks, presumably because they wouldn't want to see that $31 million disappear if it fell through. But now it has.
UMG does, however, still control worldwide publishing rights to Prince's music, in addition to the ability to make Prince merchandise. The estate can shop the recorded-music rights to other prospective buyers, including Warner Music Group, which still retains rights to some material in the artist's vault.