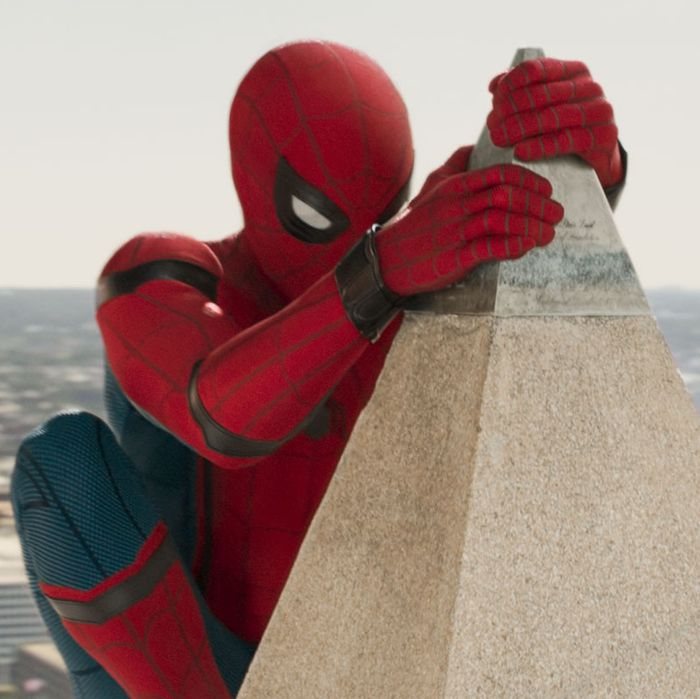 Is that tainted rock you're gripping, Spidey?
Photo: CTMG, Inc.
One of the better laugh lines in Spider-Man: Homecoming isn't even a line, per se, but rather a hand gesture. Near the film's midpoint, Spidey — well, Peter Parker — finds himself in Washington, D.C., where his academic decathlon team is competing. Of course, no good citizenship goes unpunished, and the team comes under attack from the Vulture (no relation) while they're riding the elevator in the Washington Monument. However, one member refuses to enter: Zendaya's Michelle, who says she won't go into a building built by slaves. When her coach (Martin Starr) says he's pretty sure the monument wasn't built by slaves, a security guard looks at him and wiggles his hand in a gesture that says, "Eh, kinda."
So, who's right, the coach or Michelle? We consulted the premiere historian of the Washington Monument, John Steele Gordon, author of Washington's Monument and the Fascinating History of the Obelisk. While he does point out that slavery was still legal in the District of Columbia when construction of the monument began in 1848 (local slaves were emancipated in 1862), he's skeptical about the notion that they built the structure.
"I can't say for certain, but the stonemasonry was pretty highly skilled, so it's unlikely that slaves would've been doing it," he told Vulture. "The stones were cut by stonecutters, which is highly skilled work; and the stones were hoisted by means of steam engines, so you'd need a skilled engineer and foreman for stuff like that. Tending the steam engine, building the cast-iron staircase inside — that wasn't grunt work."
That said, there were plenty of people who worked as skilled laborers while enslaved in antebellum America. Indeed, there were enslaved people who worked as stonemasons. So the possibility remains that there were slaves who performed some of the necessary skilled labor for the monument.
Whatever the case may be in regards to construction, slaves were very likely involved elsewhere in the process. For one thing, there's the rock from which the stone blocks came. "The early quarries were in Maryland, so slave labor was undoubtedly used to quarry and haul the stone," Gordon says. And there was probably some slave activity at the construction site, though not as part of the actual act of building: "They may have been tidying up and acting as messenger boys. I'm sure there were slaves there, but that wasn't the predominant form of labor."
There you have it, folks: there's no evidence that enslaved people built the Washington Monument, but it's possible, and they almost certainly performed the initial labor that made the structure possible. Good enough reason to sit out a field trip? Ask your academic decathlon coach, or better yet, a security guard.
This post has been updated to reflect that slaves often worked as skilled laborers.