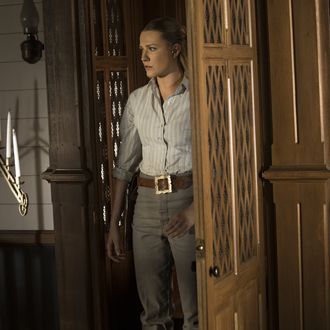 Enterprising HBO viewers everywhere spent much of last fall attempting to make sense of Westworld's puzzle-piece narrative, and it turns out the now Emmy-nominated series' time-jumping narrative was just as initially confounding to the actors as it was to viewers. Evan Rachel Wood, who received an Emmy nomination for her portrayal of Dolores, the Westworld host trying to break out of her own violent loop, admitted the cast, too, was "piercing it all together just like the audience." In fact, Wood's realization about one of the show's biggest spoilers came about when she asked about a prop:
"It was so nonchalant how I found out. It was around production of the third episode and I asked the question, 'Why is this gun here?' When I closed the door, it was gone. As an actor, I want to know what's going on, it's a legitimate question. Then somebody explained that it was part of a completely different timeline. I walked off the set and thought, 'I don't know anything. This show could be anything. My mind is completely blown.'"
Since the second season of the show is in production, fans will have to wait a while before getting their own minds blown by Westworld's intricate storytelling again.