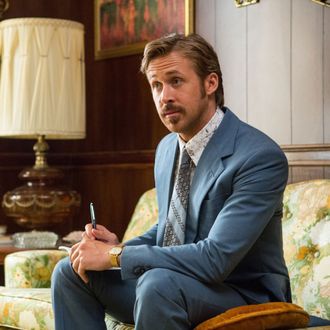 Photo: Warner Bros. Pictures
Each month, several films and TV shows leave HBO's catalogue. We provide a list of departing titles and recommend a few standouts so you can watch them before they're gone forever (or are just available on a different site). For more comprehensive coverage of the best titles available on HBO and elsewhere, check out Vulture's What to Stream Now hub, which is updated throughout the month.
Because it didn't get nearly enough love: The Nice Guys
Despite positive reviews, Shane Black's 2016 neo-noir comedy didn't perform particularly well in the box office and quickly dove under the radar. That's a shame: A deceptively freewheeling film, Russell Crowe and Ryan Gosling's pairing of a gruff bruiser and a hapless private investigator is an inspired one. The duo are a delight to watch as their search for a missing girl takes them on a tour of the underbelly of '70s Los Angeles. It's even more satisfying on a rewatch, as the seemingly convoluted plot reveals itself to be surprisingly deft at bringing together its disparate threads. Give it another watch before it leaves HBO. Leaving August 31.
Because it's not as bad as you remember: Batman Forever
Batman Forever is unquestionably a movie made to sell toys, but it's still a good deal better than the rightfully maligned Batman & Robin. An exercise in tonal whiplash, Batman Forever wildly flips between cartoonish camp and psychological darkness (with a touch of kink) at the drop of Two-Face's coin. If it were made today, it would probably be considered a parody, which makes it the perfect film for knocking back a few drinks with some good company. Leaving August 31.
Because it's a genuine classic: Broadcast News
A movie that doubles as both a portrait of the TV-news business circa 1987 and a romantic comedy starring an utterly charming Albert Brooks and Holly Hunter, Broadcast News is more earnest than the angry Network, but James Brooks's film about a love triangle between the neurotic and overworked producer (Hunter), her talented partner and best friend who secretly pines for her (Brooks), and the network's charming yet untalented anchor (William Hurt) is a classic setup that comes together exceptionally well, largely thanks to the talents of its cast. Leaving August 31.
Noteworthy selections in bold.
Leaving August 31:
Absolutely Fabulous: The Movie
Airheads
Batman Forever
The Boss
Bridget Jones: The Edge of Reason
Broadcast News
Bullet to the Head
Cape Fear
The Cider House Rules
The English Patient
Friday
Interview With the Vampire
Journey to the Center of the Earth (1959)
Journey to the Center of the Earth (2008)
Just Married
The Last Watch Hunter
Little Nicky
Marley & Me
Miami Rhapsody
Mystic River
Next Friday
The Nice Guys
Nights in Rodanthe
Now You See Me 2
Rain Man
Rushmore
The Secret Life of Bees
Sleepers
The Tuxedo
The Visit
The World According to Garp
They Live
Welcome Home Roscoe Jenkins