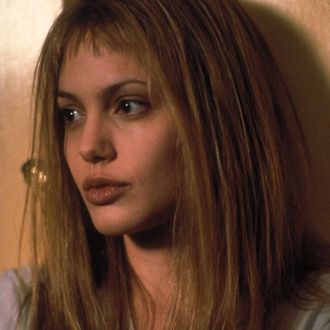 Each month, several films and TV shows leave Hulu's catalogue. We provide a list of departing titles and recommend a few standouts so you can watch them before they're gone forever (or are just available on a different site). For more comprehensive coverage of the best titles available on Hulu and elsewhere, check out Vulture's What to Stream Now hub, which is updated throughout the month.
If you're in the mood for vintage Angelina Jolie: Girl, Interrupted
Angelina Jolie's first and only Academy Award–winning performance as the mentally unwell Lisa Rowe is still one of her very best — a charismatic and barely restrained turn from an actress whose sensibilities began to drift in the opposite direction shortly thereafter. As Jolie's breakout role, it also marks the end of an era — the blockbuster roles she'd play in the '00s would demand far less of her considerable talents. But at the very least, we'll always have Girl, Interrupted, a film that's worth the price of admission for Jolie's performance alone. That Winona Ryder ain't bad either. Leaving August 31.
If Twin Peaks isn't weird enough for you: Blue Velvet
Thanks to Twin Peaks: The Return, there's no better time to dive into David Lynch's filmography. First thing's first: You should catch Blue Velvet before it leaves Hulu at the end of August. Dark, difficult, and horrifying, Blue Velvet is the perfect unsettling companion piece to The Return, featuring Kyle MacLachlan and Laura Dern in a dreamlike mystery that's in step with the quiet suburban nightmare unfolding on Showtime every week, or the quiet, personal hellscape of Twin Peaks: Fire Walk With Me. Leaving August 31.
If you want to wish Daniel Day-Lewis a happy retirement: Gangs of New York
In case you hadn't heard, Daniel Day-Lewis is getting out of the acting game, and we're all the poorer for it. Let's send him off by watching one of his most over-the-top roles: Bill the Butcher, leader of the Bowery Boys in Martin Scorsese's epic period film, Gangs of New York. Although it's not one of Scorsese's more lauded films, its grand sweep and downright brutal violence does make for one of his grittiest projects, and no one wades in it better than Day-Lewis, who swaggers in every scene unfazed by sweat and grime, delivering every line with a swarthy sheen of dirt you can't quite get out from under your fingernails. Leaving August 31.
Noteworthy selections in bold.
Ending August 31
2 Days in the Valley 
All Over the Guy 
Barnyard 
Blow Out 
Blue Velvet 
Burnt Offerings
Chaos 
De-Lovely 
Desperate Hours 
Fire in the Sky 
Gangs of New York 
Girl, Interrupted 
Harriet the Spy 
Hercules 
Kangaroo Jack 
Little Man Tate 
Lost in America 
Mr. Mom 
Mulan 
Shivers 
Tracker 
Underworld 
Underworld Evolution
Under the Sea
Walking Tall
Zoom