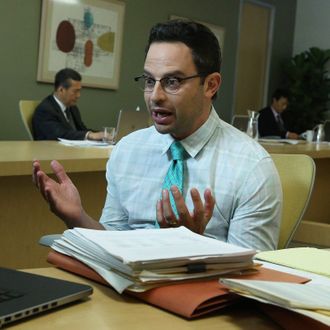 Each month, several films and TV shows leave Netflix's catalogue. We provide a list of departing titles and recommend a few standouts so you can watch them before they're gone forever (or are just available on a different site). For more comprehensive coverage of the best titles available on Netflix and elsewhere, check out Vulture's What to Stream Now hub, which is updated throughout the month.
If you love silly bro comedy: The League
The later seasons were often busts, and the lead of this show did lie about being in the Twin Towers on September 11. But FX's extremely goofy comedy about a bunch of Chicago dicks in a fantasy football league churned out plenty of belly laughs before all that, and bingeing a few episodes is always a reliable way to unwind. Football knowledge isn't necessary to appreciate gags about workplace sabotage, filthy children, a grown man named "Taco," or the show's infamous explanation of "vinegar strokes." Leaving August 30.
If you want to enjoy three Hollywood giants in one movie: The Verdict
Sidney Lumet. David Mamet. Paul Newman. This 1982 courtroom drama has it all, plus a thick layer of cynicism about the American justice system that places it firmly among the best, bitterest films of its decade. Newman plays an alcoholic ambulance-chasing attorney who's gifted an easy malpractice case, but abandons a lucrative settlement and pushes for trial once his comatose client causes him to suffer a crisis of conscience. Can he ever find redemption, and can the family ever find peace, within a legal realm that leaches so much life force from anyone who dares to seek justice? Leaving August 1.
For a heartfelt take on social realism: Two Days, One Night
Belgium's bards of the working class, Jean-Pierre and Luc Dardenne, broke through to a (slightly) wider audience with this 2014 drama about a factory worker whose job is on the line, played in an Oscar-nominated turn by Marion Cotillard. To stay employed, Sandra only has a weekend to convince her co-workers to vote no on a proposed pay raise. As she treks from home to home, fighting back destructive urges while pleading with colleagues to go against their own self-interests, the stark reality of her predicament comes into focus. What might initially seem like a low-stakes arty drama becomes an essential struggle of our time, measuring how far we must go just to hang onto what we already have. Leaving August 11.
Leaving August 1
Babe Winkelman's Outdoor Secrets: 2014: Quarter 4
The Delivery Man: Season 1
The Heavy Water War: Season 1
The Hunt: Season 1
Hunter X Hunter : Seasons 1-5
Justice League: Seasons 1-2
Justice League Unlimited: Seasons 1-2
Young Justice: Seasons 1-2
Leaving August 6
The Spoils of Babylon: Season 1
Leaving August 15
American Dad!: Seasons 1-4
Changing Seas: Seasons 3-6
Close Quarter Battle: Season 1
The New Frontier: Season 1
Top 10 Secrets and Mysteries: Season 1
Leaving August 28
Revenge: Seasons 1–4
Leaving August 30
The League: Seasons 1–7
Leaving August 1
10 Things I Hate About You
Babe
Babe: Pig in the City
Beneath the Helmet
Black Widow
The Diabolical
Dirty Mary, Crazy Larry
Electric Slide
Elizabethtown
From the Terrace
From Time to Time
Goodbye World
Horsemen
Josef Fritzl: Story of a Monster
The Little Engine That Could
The Lizzie McGuire Movie
Malibu's Most Wanted
Prefontaine
Russell Brand: End the Drugs War
Russell Brand: From Addiction to Recovery
Teacher's Pet
The Verdict
Young@Heart
Zack and Miri Make a Porno
Leaving August 4
Superbad
Leaving August 5
Pelican Dreams
Personal Gold: An Underdog Story
Leaving August 6
Human Capital
Leaving August 9
The Five Venoms
Leaving August 10
Dope
Leaving August 11
Four Blood Moons
Jesus People: The Movie
Patch Town
Two Days, One Night
Leaving August 14
Drones
Food Matters
Leaving August 15
To Kill a Mockingbird
Leaving August 23
The Summer of Sangaile
Leaving August 24
Gun Woman
Leaving August 25
The Kidnapping of Michel Houellebecq
October Gale
Paratodos
Leaving August 31
Space Warriors