Get New on Netflix delivered every month.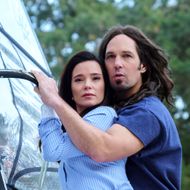 At the beginning of (and during) each month, Netflix adds new movies and TV shows to its library. Below, you'll find our August 2017 recommendations along with a full list of new titles. For more comprehensive coverage of the best movies and TV shows available on Netflix and elsewhere, check out Vulture's What to Stream Now hub, which is updated throughout the month.
If you still miss Camp Firewood: Wet Hot American Summer: Ten Years Later
After the original cult film and the frequently gut-busting prequel series, Netflix has signed the Camp Firewood gang back for another eight-episode go-around, this time in a Big Chill–inspired flash-forward to mock the passage of time. For now let's carry cautious optimism that a cast this talented (Amy Poehler, Elizabeth Banks, and Paul Rudd among them) knows what they're doing, while shaming Bradley Cooper for failing to return despite the fact that it was his character who first suggested the ten-year reunion … 16 years ago. Available August 4.
For sports skeptics who love documentaries: Icarus
Yet another historic sporting event will forever be tainted by the scandal of steroids. As Bryan Fogel's investigative documentary uncovers, Russia's anti-doping lab was engaged in a massive conspiracy to slip drug cocktails to dozens of its Olympic athletes (including several medal winners) and tamper with their urine samples to avoid detection during the 2014 Sochi Games. Fogel captured the interviews that would make up the backbone of the New York Times piece that broke the story, and now Netflix has acquired exclusive rights to the film itself. It's a dark and dangerous world. Available August 4.
If you like dark success stories: The Founder
Overlooked when it was dumped in theaters last January, this biopic of McDonald's head honcho Ray Kroc might be one of the great American business parables of our time. Kroc (played by a sneakily sleazy Michael Keaton) didn't actually "found" the billion-dollar fast-food model; he just took notice of a great idea dreamed up by a couple California brothers, franchised the burger-flippin' crap out of it, and cut the original progenitors out of the profits with the most savage, underhanded techniques imaginable. The Founder does little to try to soften its anti-hero's actions, and indeed ends by wondering if allowing assholes like Kroc to rule the market unabated is really what the American dream is all about. Available August 2.
Noteworthy selections in bold.
Available August 1
Crematorium: Season 1
The Hollywood Masters: Season 1
The Royal House of Windsor: Season 1
Surviving Escobar - Alias JJ: Season 1
Available August 4
Voltron: Legendary Defender: Season 3
Wet Hot American Summer: Ten Years Later: Season 1
Available August 8
My Little Pony: Friendship Is Magic: Season 7, Episodes 1-13
Available August 11
Atypical: Season 1
Home: Adventures with Tip & Oh: Season 3
True and The Rainbow Kingdom: Season 1
Available August 15
Murderous Affair: Season 1
Available August 18
Dinotrux: Season 5
Glitter Force Doki Doki: Season 1
Marvel's The Defenders: Season 1
Available August 21
Gomorrah: Season 2
Available August 25
Disjointed: Part 1
DreamWorks Dragons: Race to the Edge: Season 5
Once Upon a Time: Season 6
Available August 29
The Good Place: Season 1
Available August 1
The Addams Family
The Astronaut's Wife
Bad Santa
The Bomb
A Cinderella Story
Cloud Atlas
Everyone's Hero
Funny Games (U.S.)
Innerspace
Jackie Brown
The Last Mimzy
Lord of War
The Matrix
The Matrix Reloaded
The Matrix Revolutions
Maz Jobrani: Immigrant
Nola Circus
The Number 23
Opening Night
Practical Magic
Sleepy Hollow
Small Soldiers
Tie The Knot
The Truth About Alcohol
The Wedding Party
Who Gets the Dog?
Wild Wild West
Available August 2
The Founder
Jab We Met
Available August 3
The Invisible Guardian
Sing
Available August 4
Icarus
Available August 5
Holes
Available August 9
Black Site Delta
Available August 10
Diary of an Exorcist - Zero
Available August 11
Naked
White Gold
Available August 13
Arthur and the Invisibles
Hot Property
Mission Control: The Unsung Heroes of Apollo
Available August 14
The Outcasts
Urban Hymn
Available August 15
21
All These Sleepless Nights
Barbeque
Brad Paisley's Comedy Rodeo
Donald Cried
My Ex-Ex
A New Economy
The Sweet Life
Available August 16
Gold
Available August 18
I Am Sam
What Happened to Monday
Available August 19
Hide and Seek
Available August 20
Camera Store
Available August 21
AWOL
Bad Rap
Beautiful Creatures
Unacknowledged
Available August 22
Lynne Koplitz: Hormonal Beast
Sadie's Last Days on Earth
Available August 23
Feel Rich
Available August 25
Death Note
Available August 29
Bring It On: Worldwide #Cheersmack
Ryan Hamilton: Happy Face
Available August 31
Be Afraid
Get New on Netflix delivered every month.