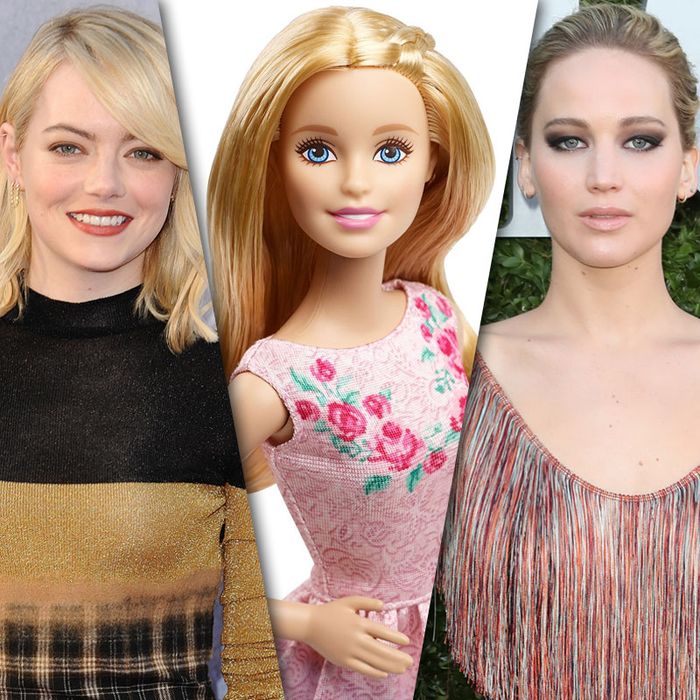 Photo: Getty Images/Mattel
Amy Schumer dropped out of the live-action Barbie movie months ago, and the Sony movie hasn't yet settled on which A-list actress will take the wheel of the Mattel doll's iconic pink convertible. But in a New York Times profile of Barbie producer Amy Pascal, the paper lets it slip that "negotiations are underway with an Oscar-winning actress for the tonally tricky title role." A quick refresher on this live-action adaptation: According to Variety, it will have a tone similar to that of Splash, Enchanted, and Big while the plot is said to involve the main character (Barbie, we assume) getting "kicked out of Barbieland for not being perfect enough." Vulture suggested seven actresses who'd bring the perfect blend of humor and skill to the role — including Gina Rodriguez, Melanie Lynskey, and Nicki Minaj (ahem) — but none of those stars have an Oscar on their mantel. So who's the likely mystery actress in negotiations to bring the iconic doll to the big screen?
First, a list of women in Hollywood who've scooped up an Oscar recently, and seem to be the most likely contenders: Jennifer Lawrence, Brie Larson, Anne Hathaway, and Emma Stone. They're in demand, and have excelled in comedies laden with innuendo. Natalie Portman, Reese Witherspoon, and Lupita Nyong'o also seem to be good fits — but they might be otherwise occupied (Nyong'o has Star Wars; Witherspoon did have a Barbie biopic in the works, but she has other movies on deck now; and Portman has an HBO mini-series). Barbie has to go into production quickly to meet the June 29, 2018, release date, which is timed to the release of movie tie-in dolls already being manufactured, so for these purposes we'll rule those three out.
Scheduling conflicts might eliminate other recent Oscar winners who have more than one movie or TV show lined up for the near future, so we'll consider Octavia Spencer, Mira Sorvino, Patricia Arquette, and Cate Blanchett possibly unavailable, if Sony had asked (all of them have at least two projects scheduled for a 2018 release). Jennifer Hudson, Jennifer Connelly, and Viola Davis are busy with TV: Hudson is a coach on The Voice, Davis is on How to Get Away With Murder, and Connelly is doing the TV adaptation of Snowpiercer.
So, who has an Oscar and an open schedule? With Tomb Raider in postproduction, Alicia Vikander seems free. Angelina Jolie isn't doing a lot of acting, but she has an Oscar. Spider-Man: Homecoming supporting players Gwyneth Paltrow and Marisa Tomei seem available. Ditto Tilda Swinton, Catherine Zeta-Jones, Anna Paquin, Mo'Nique, and Marcia Gay Harden, though those actresses are perhaps less likely to be interested in taking on Barbie. (For the record, I am extremely interested in a movie about Marcia Gay Harden getting kicked out of Barbieland.)
Given that, let's revisit those first few candidates we mentioned. Anne Hathaway top-lining Barbie would be the closest thing to the Princess Diaries 3 installment we deserve, but that might ignite the internet's unfair ire against her (again). Jennifer Lawrence or Emma Stone could surely conjure Sony up some plastic goodwill, but do they want to play the doll, especially after Schumer dropped out? Which brings us to Brie Larson. She would probably be finished with the bulk of her work on Captain Marvel* by the time shooting would start — is Bar-Brie in our future?
This post originally misstated Brie Larson's upcoming superhero role. She will play Captain Marvel.